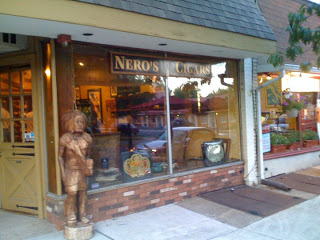 Part of my battle against the Pleasure Police is to inform cigar enthusiasts of great places to go and enjoy a fine cigar. This will be the first of many places I will post on a semi-regular basis. Today's first stop is Haddonfield, NJ – just 15 minutes across the Ben Franklin Bridge in Philadelphia. The name of the place is Nero's Cigars.
Nero's has been open since 2004. It is a small brick and mortar tobacco shop operated by "Mikey Black". As for the establishment it consists of three areas – a nice sized humidor, a retail store, and a private room. Nero's does a very good job at fulfilling my motto when it comes to cigars – "The Smoke, the Craft, and the People". This place is a classic microcosm of old school Philadelphia.
The humidor is a very good one. If I had to estimate, Nero's probably carries about 150 different cigars. Like any tobacco shop, there are certain brands that are going to be the key brands that stand out. For Nero's the key brands are Fuente/JC Newman, Ashton, Miami Cigars, Drew Estates, Rocky Patel, and La Flor. There are also plenty of other brands available – Casa Magna, Oliveros, Camacho, Perdomo, CAO, Esteban Carreras, Alec Bradley, as well as others I am forgetting. I was very surprised how fast some of the new sticks got in. I was able to try the Nestor Miranda Art Deco and the La Aroma de Cuba Mi Amor for the first time – both new IPCPR releases.
The retail store focuses primarily on cigar related merchandise – humidors, cutters, lighters, and well as pipes, pipe tobacco, and pipe accessories. There is a limited seating area in the retail store with four chairs (usually one is occupied by Mikey B himself). When the chairs fill up, that doesn't stop people from coming in to enjoy a cigar – they just stand. There is a flat screen television available in the front, but usually it is not put on unless there is a key game. When the television is not on, there is classic Disco (yes) and old school Sound of Philadelphia being played on the XM Radio system through XM Channel 83 (The Strobe).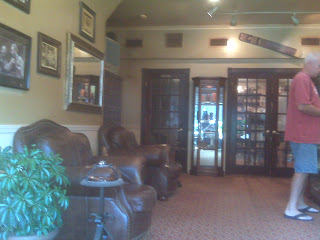 The Retail Store at Nero's
For a nominal fee (I believe $150 per year), it is possible to get a locker and access to the back-room. The back-room gives you access to an additional flat screen television, the XM Radio, additional seating, a card table, a refrigerator, microwave, coffee, and soft drinks. Access to the back-room is strictly for members who pay the fee unless you are a guest of a member.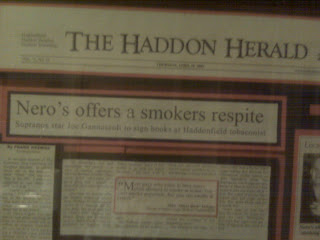 Article in local newspaper on Nero's hanging in the private room
One thing I really like is how Mikey does a great job at leveraging how special cigars are when it comes to building relationships. You can see this is a shop where many of the patrons are not just good friends, but great friends with each other. Visitors are made to feel more than welcome, but of course, if you are not hard-core Phillies, Eagles, Sixers, or Flyers – prepare to take a ribbing. If you are a fan of our so-called President, you probably are not going to fit in with the crowd. It's old school Philadelphia right across the Delaware river – so its a perfect place to experience it.
One note – parking is a little bit of a challenge. There is limited metered parking, but if you plan on being there a while (and/or cannot get a meter), you might have to park around the corner and walk.
It's also worth noting that Nero's is a extremely clean place – which I think is key when enjoying a cigar. Overall, a very good place that I continue to go back to whenever I venture in the Philadelphia area. If you like the whole old school cigar environment (and have a some thick skin), definitely stop by and make some new friends.


Contact Info:
421 North Haddon Avenue
Haddonfield, NJ 08033
Phone: (856) 428-0559
Hours: 10am – 8pm (Mon-Sat), Open Sunday 12-4pm