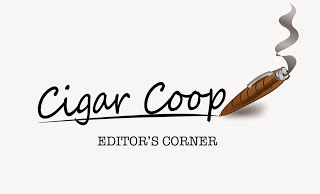 We at Cigar Coop do not consider ourselves a "blog". The reason for this is we are an online cigar publication that publishes daily focusing on news and reviews. We also only consider "blogging" to be one aspect here and we feel using the name "blog" we real limits the mission we carry out. However there are "blog" aspects to what we do, thus the "Editor's Corner" is designed to fill the blog role on our publication. This is a place to write editorials giving thoughts and perspectives related to the cigar industry.
"Editor's Corner" is published monthly – usually on the first day of the month.
2019
#94: (December 2018): Changes to 2019 Cigar of the Year
#95 (January 2019): Postseason 2018
#96 (February 2019): Lessons Learned
#97 (March 2019): Lessons Learned Part 2
Volume 7 (2018)
Number 1 (December 2017):  That Time of the Year
Number 1a (December 2017): Day 2000; Thank You!!
Number 2 (January 2018): No Click For Pay
Number 3 (February 2018): Remembering Gary Laden
Number 3a (February 2018): Strange Days Indeed
Number 4 (March 2018): Starting with a Clean Slate
Number 4a (April 2018):Love Rollercoaster
Number 5 (April 2018): April
Number 6 (May 2018): Three Cs Add Up to One Big C
Number 6a (May 2018): Restructuring the Review Format – The Start
Number 7 (June 2018): May Days
Number 8 (July 2018): Eight Shows for the Sixth Month
Number 9 (August 2018): Who is Rick Ross?
Number 9a (August 2018):About Our Alleged Silence on the Altria ANPRM Controversy
Number 9b (August 2018): 8th Anniversary – It's Cold Brew and Nitro
Number 10 (September 2018): Now Shipping
Number 11 (October 2018): In Regards to Inter-Tabac
Number 12 (November 2018): End of the Year
Volume 6 (2017)
Number 1 (December 2016): Where is the 2016 Cigar Coop Cigar of the Year Countdown?
Number 2 (January 2017):  The Rudy Giuliani Postscript
Number 2a (January 2017): Footnotes on the Petition to Support HR 564
Number 3 (February 2017): The 2016 Cigar of the Year Post Game Report
Number 4 (March 2017): Changes and Travels
Number 5 (April 2017): Changes Continue at Cigar Coop
Number 6 (May 2017): The Pink Cadillac
Number 7 (June 2017): The Journey Continues
Number 8 (July 2017): Covering the IPCPR Trade Show
Number 9 (August 2017): IPCPR 2017 Footnotes
Number 10 (September 2017): It Continues with a Coffee
Number 11 (October 2017): Evolution
Number 12 (November 2017): #wrongnews
Number 12a (November 2017): Should Companies Openly Communicate Price Increases Directly to Consumers?
Volume 5 (2016)
Number 1 (December 2015): Changes to the 2015 Cigar of the Year Countdown
Number 2 (January 2016): The Cigar of the Year Post Game Report
Number 3 (February 2016): News Roundup for January 2016
Number 4 (March 2016): The Dream Team
Number 5 (April 2016): Looks Aren't Everything
Number 6 (May 2016): Planning Cigar Reviews
Number 6a (May 2016): FDA Regulations on Premium Cigars-The Editorial and Analysis Piece
Number 7 (June 2016): One Headline-Why Believe It?
Number 8 (July 2016): Decision Points
Number 9 (August 2016): Green Visor and Typewriter
Number 10 (September 2016): In Regards to Stealth Products
Number 11 (October 2016): More on those Stealth Products
Number 11a (October 2016): Why the FDA Said "No" to Charitable Contributions by Cigar Companies
Number 12 (November 2016): Closing Out Pre-Reviews
Volume 4 (2015)
Number 1 (December 2014): History and Epic Encounters 2014
Number 2 (January 2015): By the Numbers
Number 3 (February 2015): The Time Was Right
Number 4 (March 2015): "I Got This Package in the Mail"
Number 5 (April 2015): Citobacar Teases New Release (Not an April's Fool Joke)
Number 6 (May 2015): Press and Release Part 1 – Chicken or Egg
Number 7 (June 2015): The Chase is Over
Number 8 (July 2015): Everybody Wants to Rule the World
Number 9 (August 2015): Milestones
Number 10 (September 2015): Economics of a Cigar Media Brand
Number 11 (October 2015): The Acquisitions: One Year Later
Number 12 (November 2015): Reflections of 2015
Volume 3 (2014)
Number 1 (December 2013): Epic Encounters 2013
Number 2 (January 2014): Epic Encounters 2013 – Analysis and Numbers
Number 3 (February 2014): Who are we?
Number 4 (March 2014): Are You Going to Blog About This Event?
Number 5 (April 2014): Why Cover Boutiques?
Number 6 (May 2014): What We Do…
Number 7 (June 2014): FDA and IPCPR Season
Number 8 (July 2014): Closer to IPCPR Time
Number 9 (August 2014): IPCPR 2014 Postscript
Number 10 (September 2014): Lack of Coverage?
Number 11 (October 2014): On Rumors, Teasers, and Press Releases
Number 12 (November 2014): Post Game and Pennant Races

Volume 2 (2013)
Number 1 (January 2013): Thank You for a Great 2012
Number 2 (February 2013): Epilogue to Epic Encounters
Number 3 (March 2013): IPCPR Consumer Day Thoughts
Number 4 (April 2013): Power Players
Number 5 (May 2013): April Fool's Day 2013 in the Cigar Industry
Number 6 (June 2013): In Defense of the Big Ring Gauge
Number 7 (July 2013): The Coffee Chain, the 2013 IPCPR, and "The Streak"
Number 8 (August 2013): IPCPR 2013 Recap
Number 9 (September 2013): Are You Ready for the Next Generation?
Number 10 (October 2013): Important Integration Changes
Number 11 (November 2013): Cigar Voters and the NYC Mayoral Election
Volume 1 (2012)
Number 1 (January 2012): Cigar Coop 2.0
Number 2 (February 2012): Putting Away the Tuxedo
Number 3 (March 2012): Spring Fever Begins
Number 4 (April 2012): No Madness for March
Number 5 (May 2012): Grass Roots
Number 6 (June 2012): Cigar Coop 3.0
Number 7 (July 2012): The Story Behind the Press Releases
Number 8 (August 2012):  IPCPR
Number 9 (September 2012): Worth It for an Iced Coffee?
Number 10 (October 2012): Best Practices
Number 11 (November 2012): November Pennant Races
Number 12 (December 2012): Epic Encounters 2012