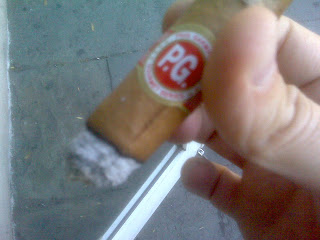 For a while I've been intrigued with sampling the Paul Garmirian line. Paul Garmirian is a Indie cigar line that tends to fall into the more expensive category when it comes to cigars. At the same time, I have not had a lot of success locating this line of cigars in Charlotte, North Carolina. Upon a recent visit to Charleston, South Carolina, I came across the Paul Gamirian Gourmet Series, and I knew I had to try it. While this cigar is not in my flavor profile, I was pretty impressed with as well-constructed a cigar as I've found.
A little background on Paul Garmirian (and more details can be found by clicking here). Garmirian established himself in the area of Politics and International Marketing in the Northern Virginia area. Garmirian's also had a passion for cigars. As a result, in 1990, he created a book called The Gourmet Guide To Cigars. The publication of his book resulted in the opportunity to work with Hendrik Kelner and thus Garmirian found himself in the cigar business.
It was at a place called The Smoking Lamp in Charleston, South Carolina where I found the P.G. Gourmet Series. Upon first glance of this cigar, it did not have a strong look, so it looked perfect to be a morning smoke.
The blend is comprised as follows:
Wrapper: Colorado Shade Grown Connecticut
Binder: Dominican
Filler: Dominican
The Paul Garmirian Gourmet Series is available in a wide variety of vitolas. This cigar has pretty much a vitola for everyone:
Celebration 9 x 50
Double Corona 7 5/8 x 50
Torpedo 6 1/4 x 52
Belicoso 6 1/4 x 52
Churchill 7 x 48
Belicoso Fino 5 1/2 x 52
Connosseur 6 x 50
Epicure 5 1/2 x 50
P.G. No.1 7 1/2 x 38
Corona Grande 6 1/2 x 46
Robusto 5 x 50
Especial 5 1/2 x 38
Lonsdale 6 1/2 x 42
P.G. No.2 4 3/4 x 48
Corona 5 1/2 x 42
Petit Corona 5 X 43
Torito 4 X 50
Petit Bouquet 4 1/2 x 38
P.G. No.5 4 x 40
Bombones 3 1/2 x 43
Joyitas 4 1/2 x 26
While there are a lot of vitolas available on this cigar, the only vitola I was able to find in Charleston, South Carolina was the Robusto. Still, I did not hesitate to purchase this cigar. I then decided to put a straight cut into the cap and toasted the foot and began the experience of enjoying this cigar.
One thing right off the bat – this is not a strong cigar, so it lived up to the way it looked. This cigar is not going to produce a nicotine buzz and not going to produce strong flavor notes – so it is definitely a mild strength, mild bodied cigar. This cigar was advertised to be medium-bodied, but I say no way. This is also not going to be a highly complex cigar. The cigar is going to start out with some wood notes. About 1/3 of the way into the cigar, and mild citrus sweetness emerges with this smoke. This is pretty much how the cigar is going to smoke to the end. The finish was not harsh – it was cool and firm. It was smooth from start to finish.
This cigar fits the definition of "morning smoke" or "first smoke". This cigar sold for $10.00 at the Tobacco Lamp, but from a construction standpoint this was flawless so it looked worth the price. The burn and draw are as good as they can get. All of this is what I would expect from a "pricey cigar"
Overall, the mild-bodied, mild-strength cigars are not in my rotation. Sometimes I do prefer a little more pop with my cigar. However, if I am rating this cigar for what it is – I have to say, this is a quality smoke. I'd be very curious to try this in one of the other vitolas.
Burn: Excellent
Draw: Excellent
Strength: Mild
Body: Mild
Assessment: Nice to Have