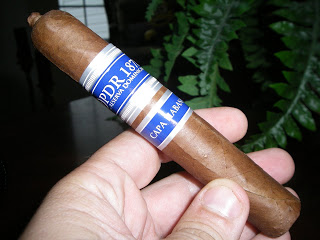 PDR 1878 Reserva Dominicana Capa Habana
Last year, Abe Flores of owner and master blender of Pinar Del Rio introduced his "PDR 1878" line of cigars. This has proven to be a solid set of value-priced cigars around the $5.00 to $7.00 range that has gotten the attention of consumers. This year, at IPCPR Flores plans to launch two new cigars in the PDR 1878 line – the PDR 1878 Cubana Especial Capa Natural and the PDR 1878 Reserva Dominicana Capa Habana . This brings the number of blends under Pinar Del Rio's "PDR 1878" line to four. Abe Flores just paid a visit to Outland Cigars in Charlotte for an event. As a part of the event, he made available some of the new PDR 1878 Capa Habana cigars for the store to sell. My initial thoughts: the PDR 1878 Capa Habana might be the best of the four PDR 1878 blends.
First up, Flores told me that this is not a prototype, but represents the final blend. As mentioned, the plan is to do a larger launch at IPCPR. I had managed to sample a prototype a few weeks ago and I was extremely impressed with what that provided. Flores told me he had made some changes and felt that they had gotten things just right. Since there was a change, I opted to share my experience through a pre-review as to a formal assessment. Once I smoke a few more, I will place a formal assessment rating on this cigar.


Blend Profile
Although Flores made some cigars available to Outland Cigars at the event we had, I asked him if it would be OK to publish some information on my experience with the PDR 1878 Capa Habana – and he replied yes. My next question was if he was willing to share anything on the blend. This is where he smiled at me. I did not want to push him into specifics. I know the plan is for a big launch at IPCPR, so I wanted to respect that. Flores did mention to me "Habano" – and given this cigar this cigar shares a similar name to its "red-banded" sibling, I'm assuming this contains a good dose of Habano like that one does.
Vitolas Available
Right now the vitola that was offered to us was a 5 x 52 Robusto. I was very pleased like this. Although I am a big ring gauge person, I have found all Pinar Del Rio cigars – not just the PDR 1878s really seem to work well in this size cigar. There is a similarity to its red-banded sibling in that this cigar features a covered foot. Like all four of the PDR 1878 blends, it features a signature pig-tail cap. The PDR 1878 line has been made available in wide range of vitolas, so I would expect this blend will follow suit.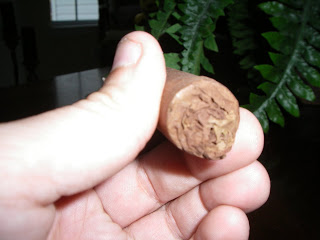 Preparation for the Cigar Experience
With the PDR 1878 Capa Habana, I opted to place a straight cut as opposed to removing the pigtail cap. The pre-light draw treated me to interesting notes of pepper and butterscotch. This was different than the prototype I had earlier., but I was still pleased with what I had. It was then on to toast the covered foot and see what this blend brought to the table.
Flavor Profile
The interesting thing about this pre-release sample as opposed to the prototype was that there was a lot more peppery spice in this one. The pepper was much more from a cayenne pepper standpoint. The other big difference is that this pre-release had more notes of tea than I expected. The pepper spice does transition to more of a classic cedar spice midway into the smoke The interesting thing is how the cedar spice is present on the aftertaste. There were times I picked up notes of caramel and butterscotch as well. I'd put these notes more in the background, but they were a nice part of the package.
One consistent thing from Pinar Del Rio is that you are not going to get a bunch of flavor transitions, but the flavors you do get are going to be good, bold, and robust. There is no exception with the PDR 1878 Capa Habana as it fits right into this category.
Burn and Draw
Great scores in this area for the PDR 1878 Reserva Dominicana Capa Habana. The burn was razor sharp delivering a nice salt and pepper colored firm ash. The burn rate and temperature were right on the money as well.
One thing about the PDR 1878 is I feel they have a very loose draw – particularly on the big ring gauge vitolas. This is the reason why I was pleased with having the Robusto for the PDR 1878 Capa Habana. For the Capa Habana, the draw was excellent – one of the best draws I've gotten from any of the PDR 1878 line.


Strength and Body
Between his core Pinar Del Rio and his PDR 1878 line, Flores is building a line of cigars that can appeal to a wide range of pallets. For the PDR 1878 Capa Habana, this cigar has the perfect amount of strength as I would put it into the medium category. For body, the flavor notes have some depth and robustness – not quite full-bodied, but definitely in the medium category. This cigar is one of those cigars that has a good balance between strength and body.
Final Thoughts
At the event, Flores asked me what my favorite cigar of his line is. I answered the Pinar Del Rio Clasico Exclusivo. This is a Connecticut Shade cigar he has made that I really enjoy. However, there is no doubt that the PDR 1878 Reserva Dominicana Capa Habana is probably my favorite in the PDR 1878 line and this could easily become my favorite. My thoughts are simple – I liked the cigar so much, I bought a box. I plan to do a formal assessment of this cigar in the future as I expect this cigar to be even better as it gets some more aging.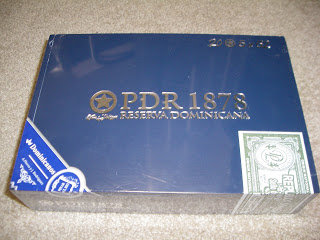 My box of the PDR 1878 Reserva Dominicana Capa Habana
Summary
Draw: Excellent
Burn: Excellent
Complexity: Low
Strength: Medium
Body: Medium Full
Disclaimer: The cigar for this assessment was purchased at Outland Cigars in Charlotte, NC. The store was able to have a have a pre-release sale on this blend.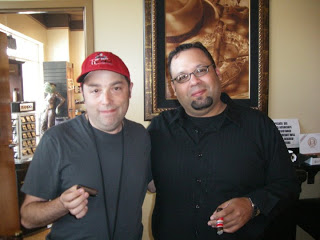 Cigar Coop (L), Abe Flores (R) – taken from Lite Up Charlotte 10/10