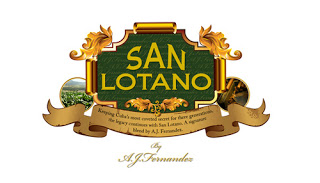 Back on Saturday May 14, 2011, Clay Roberts from San Lotano put out on Twitter that a new limited edition San Lotano would make its debut at the 2011 IPCPR.
Overnight, Roberts put some additional information on Twitter about a new cigar making its debut at IPCPR. Most of the information is still very much hints and nuggets.
The Twitter information said "AJ Fernandez Cigars will be previewing the San Lotano Oval at the 2011 IPCPR; Smoke will have Aj's coveted Habano 2000 wrapper & presented in a very unique shape."

Right now that's all that was posted and nothing was said specifically to indicate this was the limited edition that was mentioned before. I'm continuing to keep an eye on this.
The Habano 2000 wrapper is a Cuban-seed wrapper. It can be found from Honduras, Nicaragua, or Ecuador. There was no specifics around the origin of the Habano 2000 wrapper. Habano 2000 wrapper can be seen on cigars such as the Savinelli Liga Especial and in a Corojo on the Savinelli Nicaragua Reserve. It will be interesting to what Fernandez does with this wrapper in the blend.
Update (6/1/11)
Additional hints put out on Twitter. Word is this will have Nicaraguan filler and only "500" are currently in existence.
The Cigar Feed has really been on top of the "Oval" and has been doing a great job on this one.. I'm going to defer my readers to this one. Click here for more details. TCF has corrected my original comment that there are only 500 being made, there are 500 currently rolled.