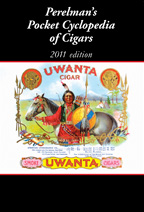 For hard-core enthusiasts, Perelman's Pocket Cyclopedia of Cigars is a must have printed reference to obtain information about blends and vitolas about the world of cigars. From this reference emerged an online site called CigarCyclopedia.com. This brought the terrific information in the Perelman guide to an online medium. Back in January of this year, Perelman shocked the world announcing the closing of CigarCyclopedia.com. This was due to the costs to maintain the web-site. The printed guide would continue. However, very quietly it seems that CigarCyclopedia.com has come back to life.
The information that was on CigarCyclopedia.com recently appeared back on the CigarCyclopedia.com site. I actually found this through some web searches on blend information. The return has happened quietly, but recently the following email has gone out to members:
Dear Friends:

Since the closure of CigarCyclopedia.com, we have been deluged with messages asking for our return, or at least to continue to post the site as it was. I am delighted to note that thanks to our friends at Corona Cigar Company, that our site will return to the Web, with the same information as shown on January 31, 2011, when we closed.
For those who received our three-times-per-week e-mail notices, we are pleased to note that we have transferred our subscriber list to two of our most ardent supporters, who are also two of the top cigar companies in the country, Corona Cigar and J-R Cigar.
Both provide a wide variety of cigars at excellent prices. J-R needs no introduction, as it is the largest cigar-sales company in the world and offers a seemingly endless array of its own blends and special discount prices.packaging of national brands at discount prices.

Corona is rapidly expanding, and is the site of the first-ever Avo Lounge in its Orlando store. It has all of the boutique and limited-edition cigars youre looking for and has created an excellent catalog of special models from hot makers like C.A.O., Rocky Patel and Tatuaje.
Im especially proud to partner with Corona founder Jeff Borysiewicz because he has also been a tireless champion of the rights of cigar smokers, in Florida and across the country. He was one of the key players in the creation of Cigar Rights of America, the only grass-roots organization supporting cigar smokers in the country.
I urge you to support both of these fine companies, whose only focus is to provide you with the best cigars on the market at modest prices and with excellent customer service. If you wish to opt-out from their mailings, however, you can do so easily by clicking on the link at the bottom of any of their messages.
Thanks to all our readers for their support, and I hope to see you in a smoke-filled room at some point in the future.
Rich Perelman
Founder
CigarCyclopedia.com
Now I cannot say to what extent things will continue or how things will be updated. Right now the site has been restored to how it was when it closed, but the "News" section appears is being updated. According to the email, both Corona Cigars and JR Cigars appear to be behind the return, but Corona right now appears to be the primary sponsor.
This is still great news for Cigar Enthusiasts. It's great to have this type of information available electronically.