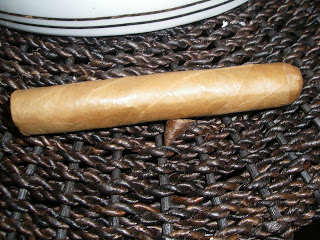 Room 101 Connecticut – unbanded sample
From talking to retailers and media, it seems as though a big theme for the 2011 cigar year has been the Connecticut/ Ecuadorian shade wrapper. There have been some very good Connecticut/ Ecuadorian shade wrapper cigars introduced this year including the E.P. Carrillo New Wave Connecticut, J&D Temptation Claro, and the Alec Bradley American Classic. With these solid releases, I didn't know what to expect from the new releases at the IPCPR show. When I visited the Room 101 section of the Davidoff booth, Room 101 founder Matt Booth handed me a sample of his new Connecticut cigar. The end result was after smoking this cigar, the bar had been raised for 2011 for Connecticut/ Ecuadorian shade cigars.
As I said when I previewed this cigar last week, I consider Matt Booth a friend. At the same time, Booth is the kind of guy who I know you could give honest feedback when it comes to his brand. Therefore my thoughts here are not influenced one bit from that friendship.
Last year, I though AJ Fernandez knocked it out of the park with his San Lotano Connecticut. From my initial impressions of this sample, the Room 101 Connecticut is even better. Since this was an unbanded sample and I still need to fill some holes in from a technical standpoint on this cigar, I've opted to go with a Pre-Review. I'm confident this impression is accurate on what this cigar brings to the table.
Blend Profile
I have some repetition from when I previewed this cigar, but I want to include it for completeness. For this Connecticut Shade wrapper, Booth was able to tap into being a part of the Davidoff family and leveraged a Davidoff tobacco for this wrapper.
Wrapper: Connecticut Shade (Ecuador)
Binder: Honduras Corojo
Filler: Honduras, Dominican Republic
Vitolas Available
The Room 101 Connecticut line will have the same vitolas at the core Room 101 line with a couple of changes.
213 (Corona): 5 1/2 x 44
315 (Robusto): 5 x 50
404 (Torpedo): 6 x 54
808 (Double Toro): 6 x 60
615 (Churchill)
The 702 (11/18) and 323 (Toro) vitolas that exist in the core Room 101 line are currently not being made in this line. Booth has added the 615 vitola (Churchill) to this Room 101 Connecticut line.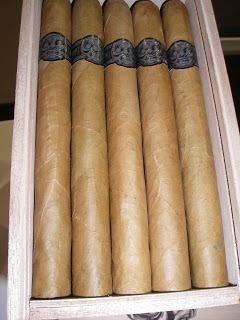 Room 101 Cigars – 615 Churchill Vitola
Preparation for the Cigar Experience
The sample I received (picture above) was an unbanded 305. Since I only had a straight cutter with me, I defaulted to a straight cut. The initial flavors from the prelight draw were pretty much what I expected – a nice butter cream. What surprised me was how robust the dry draw notes were. It was then on to fire up this sample and see what would come next.


Flavor Profile
The butter notes I got on the initial draws were present right at the start. There was also a hint of citrus sweetness at the beginning. The butter notes soon got more robust. I couldn't put my finger on what made these butter notes special and I mentioned it to Booth.. Booth responded by asking me if it had a taste like buttered popcorn – and I concurred with this. Overall, this cigar produced one of the most unique butter tastes I ever got on a Connecticut shade wrapper.
As the smoking experience progressed through the first half, the citrus notes got more pronounced and meshed very well with the butter flavors. Around the halfway point, some notes of spice emerged. The spice was a nice cross between pepper and cedar spice. The spice was the dominant flavor note in the second half, and much of the butter notes were pretty much diminished at this point. The finish had a nice spice kick to it with no harshness. The resulting nub was a little soft, but it was cool.
Burn and Draw
At IPCPR, sometimes it is typical to smoke a sample and have problems with the burn and draw due to storage and humidity. Being IPCPR was in Las Vegas, there was an obvious shortage of humidity in the atmosphere. However with my Room 101 Connecticut sample, it shined when it came to burn and draw. The burn was for the most part sharp with few touch-ups needed. The Room 101 Connecticut never burned hot and it burned at a good rate. The draw was excellent as well making for a very enjoyable smoke.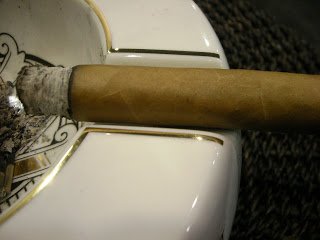 Burn of the Room 101 Connecticut
Strength and Body
This was a very interesting profile for a Connecticut Shade cigar. From a nicotine standpoint, the Room 101 Connecticut falls into the mild to medium range. From a body standpoint, this is where things got interested. The depth of the flavors are actually on the high end of the medium range – and in some cases, I detected the body to actually be medium to full. The Room 101 Connecticut is one of those cigars that makes it easy to distinguish the difference between strength and body.
Final Thoughts
The Room 101 Connecticut was a surprise to some that it was even being released. It was even a bigger surprise as I do feel it was one of the highlights of IPCPR. The flavors are pronounced and literally "dance at you" as you smoke this cigar. This cigar was nothing short of a home run and I think will appeal to both new and seasoned cigar enthusiasts. This one is well worth checking out.
Summary
Burn: Excellent
Draw: Excellent
Complexity: Medium
Strength: Mild to Medium
Body: Medium (Medium to Full at times)
Source: This sample was received at the 2011 IPCPR Trade Show. The sample was initiated by Matt Booth of Room 101 Cigars in order to provide feedback. I am appreciative for the sample, but in no way does this influence this review.
Note: All samples received from the 2011 IPCPR Trade Show will be included in my "2011 IPCPR Series"