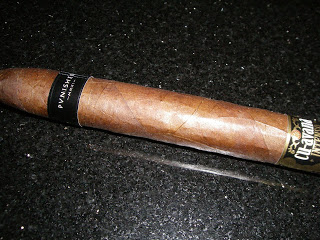 Cu'Avana Punisher
A friend of mine asked me if I ever heard of "The Punisher". This is a cigar made by a boutique company called Cu-Avana. I had not heard of this cigar, but it was explained to me that this was being billed as one of the most powerful smokes on the market place. This friend was very curious to see what my take would be on this cigar, so he was kind enough to gift this to me. Overall, while I am not convinced this was the powerhouse it was billed as (which was also my friend's assessment), there is an interesting twist to what the Punisher brings to the table. On top of that, I actually found this to be a pretty good cigar.
In my research on Cu-Avana, I learned that the brand was created by one of the true gentlemen in the cigar industry – Manuel Quesada. While I haven't smoked some of the other Cu-Avanas, it seems that these were not strong and full-bodied cigars. The Punisher represents an entry into the full strength/full body spectrum. Quesada would work with Nestor Plasencia to develop the Punisher.
So the question is – would I be able to withstand the Punisher? Let's take a closer look at the cigar and the experience.
Blend Profile
So the bad news news, there doesn't seem to be much known about this blend. I've said this several times, but I don't have a problem when a manufacturer chooses to keep the blend private. It adds to the intrigue and mystery of the smoking experience. We do know the cigar has its origin in Nicaragua. It's probably safe to assume there is a healthy dose of ligero in this cigar.
Wrapper: Unknown
Binder: Unknown
Filler: Unknown
Vitolas Available
Currently the Punisher is available only in a 6.0 x 52 Belicoso.
Preparation for the Cigar Experience
Since I was going to be smoking a Belicoso, I defaulted to place a straight cut into the torpedo-shaped cap. The pre-light draw was not tough to assess – red pepper. This was a healthy dose of red pepper. Based on some of the things I heard about the Punisher, this flavor note did not surprise me. It was then on to fire up the cigar and officially take on the Punisher.
Flavor Profile
Once I took the initial draws from the Punisher, I began to understand what this was all about. I got a major pepper blast. It's not black or red pepper here – this is pure habanero pepper that is going to hit the tongue. One would think that this cigar was infused with habanero chili peppers, but the taste seemed to also have a natural tobacco feel. Depending on how tolerant you are with habanero pepper is going to determine if you get through the first 10 minutes of this cigar experience. Without a doubt, this was the most pronounced pepper blast I ever experienced – and its the type of pepper that is going to remain on the tongue for a while.
As the cigar progresses, the habanero pepper profile will subside and for the most part, I was left with the habanero pepper spice that still was on my tongue. As the pepper subsided, I picked up notes of cocoa. As the cigar approached the middle third, there was bit of complexity that emerged with the flavors The flavors in the middle third are cocoa, oak, and raw sugar cane. The sugar cane provided a subtle sweetness during this part of the cigar experience.
As the Punisher approached the last third, pepper spice returns, but this is more traditional black pepper. As the cigar experience came to a close, the nub was firm and cool – a terrific nub. While peppery at the end, the flavors were not harsh.
Strength and Body
I usually talk about "burn and draw" before "strength and body", but in this case I think its appropriate to reverse this. From a strength profile, this is a cigar full of nicotine. Was this the strongest cigar I ever had? No. Was it one of the stronger cigars I had? Yes. I still think the La Flor Dominicana Cheroot and La Flor Dominicana Chisel are stronger from a nicotine standpoint.
I think the reputation this cigar had from a powerhouse comes from the initial pepper blast – which will probably overwhelm some cigar enthusiasts. The Punisher's flavor notes are pronounced and have depth. Again, was this the fullest bodied cigar I ever had? No. Was it one of the fuller body cigars I had? Probably.
Burn and Draw
I was very pleased with both the burn and draw from the Punisher. This was a well-constructed cigar. The burn did not require many touch-ups and it burned at a steady rate and a perfect temperature. The draw was solid as well – this was a nice cigar to get a draw from.
Final Thoughts
As I mentioned above, this isn't the fullest strength and fullest bodied cigar I ever had, but nonetheless it still is full strength and full body. The first ten minutes of this smoke is not going to be for everyone. If you can tolerate the spice, there will be some nice flavors down the line. I personally did not mind the habanero flavors early on. In fact, I found this to be a cigar I'd buy again. This is not a cigar I'd recommend to novices and I'd probably be selective to experienced cigar enthusiasts as this will not appeal to everyone in this group. Overall, I enjoyed this cigar and look forward to having it again.
Summary
Burn: Excellent
Draw: Excellent
Complexity: Medium
Strength: Full
Body: Full
Assessment: Nice to Have
Source: This cigar was gifted to me by a friend.