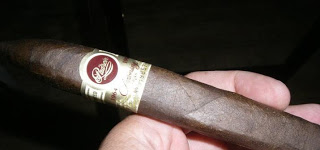 Padron 1964 Anniversary Torpedo
Last month (June 2011), I put up on my monthly "battle of the cigars" (formerly "battle of the stogies). In that matchup, I pitted two Padron cigars that are considered classics in the industry – the Padron 1926 Maduro and the Padron 1964 Maduro. I admit, when the poll came back, I was shocked to find that the 1964 Maduro had won 66% to 33% over the 1926. While this should not be a knock as these are two outstanding cigars, I still was surprised by the result. Recently, I had a very good occasion happen in my life and when it comes to a good occasion – nothing beats a classic cigar. I happened to have a Padron 1964 Anniversary sitting in my humidor, so I figured not only was it a good time to smoke this classic, but put some thoughts of the cigar experience on this web-site.
The Padron 1964 was named to commemorate the Padron company's 30th anniversary back in 1994. This was when founder Jose O. Padron founded Padron Cigars. Because this is such a sought after cigar, Padron Cigars' introduced a double band that features an unique serial number per cigar.
While the blend has been around for a while, it has remained a classic. The line is available in both a natural and maduro wrapper. For the purposes of this assessment, the focus will be on the maduro blend.
Let's break down the Padron 1964 Anniversary Maduro:
Blend Profile
The Padron 1964 Anniversary Series Maduro is an all-Nicaraguan puro.
Wrapper: Nicaraguan Maduro
Binder: Nicaraguan
Filler: Nicaraguan
Vitolas Available
The Padron 1964 Anniversary Series is available in 11 vitolas. Each cigar is made in a classic Cuban box-press style.
"A": 8.25 x 50
Diplomatico: 7 x 50
Piramade 6.875 x 42 x 52
Monarca: 6.5 x 46
Superior 6.5 x 42
Torpedo: 6 x 52
Imperial: 6 x 54
Corona: 6 x 42
Exclusivo: 5.5 x 50
Principe: 4.5 x 46
SI: 6 x 60 (Smoke Inn Exclusive)
The SI was introduced in 2011. This is a retail exclusive to Smoke Inn in South Florida.
Preparation for the Cigar Experience
As mentioned above, I opted for the Torpedo for this cigar experience. I will confess, I am not a fan of Torpedo vitolas in general. While I smoked the 1964 Anniversary Maduro several times, this was my first time I was trying the Torpedo vitola.
As with any Torpedo, I defaulted with a straight cut. It was now on to the pre-light draw. The dry draw provided notes of unsweetened chocolate. The Padron 1964 Anniversary is not something that is going to provide a memorable pre-light draw, but it does provide a satisfactory one. It was light this cigar and enjoy.
Flavor Profile
The initial draws from my Padron 1964 provided me with notes of leather and earth as well as hints of cayenne pepper. Another interesting characteristic is the amount of smoke produced by the Padron 1964 – this is something I found to be very nice about this cigar.
Around 10 percent into the smoking experience, some of the trademark Cocoa notes emerged. At this point, the cocoa notes overtake the leather and earth flavors. I would not categorize this as a sweet cocoa, but more of a baker's cocoa.
As the cigar experience moves into the second third, there is an increase in the spice. The cayenne pepper notes seem to take on more of a classic cedar spice. The cocoa notes also increase in some depth. As the cigar moves into the last third, some cinnamon notes complement the cocoa and cedar flavors. As the cigar experience concludes, I get a nice firm and cool nub. The finish to the cigar is very smooth and not harsh.
Burn and Draw
There is a reason why this cigar is a classic. The burn and draw are flawless on this cigar. Now one reason why I don't care for torpedo vitolas is because I often think they are more difficult to draw than other classic parejo vitolas. With the Padron 1964 Anniversary Maduro, there were no issues. This was definitely one of the best torpedos I ever smoked.
Strength and Body
The Padron 1964 Anniversary strikes a perfect balance of strength and body. This is a lot of the reason why the word "smooth" comes to mind every time I light up a cigar of this blend. It provides just the right amount in both of these categories. I would assess this cigar to be "medium to full" in both strength and body.
Final Thoughts
There is a reason why this blend is a classic and very sought after by not only hardcore cigar enthusiasts, but casual ones. This is a great cigar. This might not be the most complex cigar, but the flavor and construction of this cigar do not work against it. No doubt, this blend will get consideration for my first 2011 Cigar Hall of Fame inductees this October.
Summary
Burn: Excellent
Draw: Excellent
Complexity: Medium
Strength: Medium to Full
Body: Medium to Full
Assessment: Memorable
Disclaimer: This cigar was purchased by myself. It's been in my humidor for a while, but it was purchased at a retailer. I do not remember the retailer I purchased it from.