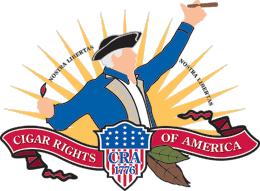 Fairfax, VA (10/31/11) At a time when those that simply want to enjoy a great cigar are under attack as never before in history through: onerous taxation, smoking bans, and threats of increased regulation, Cigar Rights of America announced today a new corporate sponsorship from one of the largest cigar manufacturers on earth.
In making the announcement, Altadis USA's General Manager of Premium Cigars, Javier Estades, stated, "We are pleased to announce our new partnership with Cigar Rights of America, and we look forward to working together to help our industry and to build a more positive environment for all of us who appreciate and enjoy the premium cigar lifestyle."
Janelle Rosenfeld, VP of Premium Cigar Marketing added, "By partnering with CRA, Altadis USA hopes to advance a pro-cigar agenda, working with other industry partners, to protect and build our wonderful premium cigar industry from the fields of the Dominican Republic, to the local retail tobacconist, to the consumer's back porch."
Altadis, USA, the maker of such noted premium cigar brands as H. Upmann, Montecristo, Romeo y Julieta and Trinidad, has been producing these acclaimed cigars since 1918. The company has production facilities in the Dominican Republic, Honduras, Puerto Rico, Florida, and Richmond, Virginia; along with associated production facilities in Mexico and Nicaragua. Altadis USA also sponsors the Montecristo Relief Organization, which has raised millions of dollars to assist victims of hurricanes and natural disasters.
CRA Board Chairman, Jeff Borysiewicz, noted, Cigar Rights of America is certainly pleased to now add Altadis USA to its growing list of Corporate Sponsors, which has grown from an initial dozen to over thirty-five manufacturers and over 700 retail tobacconists in three years. CRA has evolved from a five-city tour to a fifty-state membership in a short period of time. The cigar industry, at all levels, now presents a unified front against all forms of government intrusion. Altadis USA, with its national premium cigar network, can certainly advance the CRA cause.
CRA Executive Director, J. Glynn Loope, closed by saying, The objective is to reach as many consumers with our message as possible, and this new Corporate Sponsorship with Altadis USA will certainly advance the mission and success of Cigar Rights of America. We look forward to working with their corporate staff and premium cigar national sales force to reach the retail and consumer community, in addition to addressing the many political issues confronting each of us at all levels.
About Cigar Rights of America
Cigar Rights of America (CRA) was founded on the principle of fighting for the freedom to enjoy premium cigars. A consumer-based, non-profit public advocacy organization that works with local, state and federal governments to protect the freedoms of cigar enthusiasts, CRA works with its constituency of members including manufacturers, retailers and cigar enthusiasts to focus on opposing restrictive smoking bans and increased taxation of cigars.
Source: This press release was sent to Cigar Coop via email.