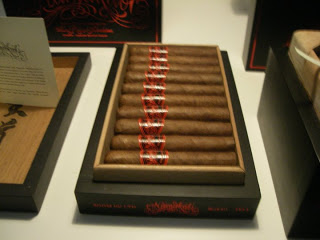 #7 Room 101 Namakubi
The 2011 Cigar of the Year Countdown has reached the Select Seven. The best of the best are rising to the top of the list. At #10, we had a breakthrough cigar from Room 101 Cigars with the Room 101 Connecticut. Now we come to a second entry in the top ten by Matt Booth and Room 101 Cigars.
Coming in at #7 is the Room 101 Namakubi. Without a doubt, this is the finest blend that has been released by Booth and Room 101. This cigar provides a great 1-2 punch for Room 101 in 2011.
The Room 101 Namakubi is a medium ro full strength and full-bodied cigar. This cigar was highlighted by lemon citrus, floral, and some very unique spice notes (that I could not come up with a metaphor for). Add raw sugar cane for some sweetness and some good old-fashioned tobacco flavors, and the end result is one flavorful cigar in the Namakubi. Each of the vitolas does a good job at providing a different smoking experience using the flavors I mentioned. The cigar consistently had an excellent burn and an excellent draw.
Click here for the pre-release assessment done on this cigar. A final assessment rating was given later in the year.
Blend Profile
Wrapper: Ecuadorian Habano
Binder: Honduran Generoso seed
Filler: Dominican and Honduran "Vuelta Abajo"
The Room 101 Namakubi uses a binder of proprietary tobacco from Honduran "Generoso" seed. The Generoso leaf is also used as the wrapper on the Camacho Super Limitado. This was named after Christian Eiroa's (Camacho Cigars) grandfather. It was Eiroa's father that worked on this tobacco through an experimental seed. The experiment was not successful from a yield standpoint, but Eiroa feels this is a tobacco that developed great flavor.
Vitolas Available
Papi Chulo: 4×42
Roxxo: 4 x 48
Tiburon: 6 x44
Sucio: 7 x 48
Monstro: 5 x 60
Recommended Vitola: Roxxo
NOTE: Epic Encounters will take a break for Christmas Day and resume the countdown on December 26th with the #6 cigar.