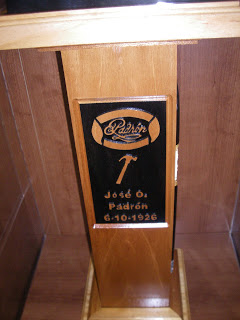 Over the weekend, information has come out from Padron Cigars on a line extension to the Padron 1964 Anniversary series. A 6 x 60 vitola is being added to both the Padron 1964 Natural and Maduro lines. According to Cigar Aficionado, the vitola will be called the No. 4.
The name is a change in the past 48 hours. This past Saturday, Padron Cigars president, Jorge Padron was a guest on Kiss My Ash Radio, and discussed this new 6 x 60 vitola. At the time the cigar was being called the Padron 1964 Anniversary Patriarch. The Cigar Aficionado article, which was published this Monday acknowledged the Patriarch name, but also goes on to say that Jorge Padron realized that Perdomo Cigars makes a cigar with that name, and therefore opted to change the name.
The No. 4 is named for the date – December 4th, that Padron Cigars founder, Jose O. Padron arrived in New York via boat following his process of emigrating from Cuba.
Padron Cigars already makes a natural and a maduro 6 x 60 version of the 1964 Anniversary Series for Smoke Inn in South Florida. Kiss My Ash Radio host, Abe Dababneh owns the Smoke Inn franchise interviewed Jorge Padron, but there was no discussion on whether his retail exclusives were going to be the basis of the No. 4 vitolas. While the tobaccos will remain the same as in the 1964 Anniversary series, the Cigar Aficionado article reports the No. 4 will be a different blend and taste.
There were some reports over the weekend that a 6 x 60 line extension was also being planned for the Padron 1926 Serie line. While the Cigar Aficionado article says "there are no plans to add" to the 1926 Serie line, Jorge Padron did say on the Kiss My Ash Radio spot, "and down the line we're going to do something in the 26 as well" (a direct reference to the 6 x 60). It sounds like that is some time away before we know about that.
The timetable for Padron 1964 Anniversary No. 4 is "three to four months" as per Jorge Padron in the Kiss My Ash interview.