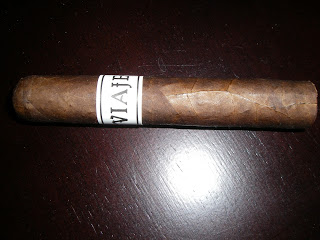 Viaje White Label Project (WLP ) Winter Classic
Andre Farkas, founder of Viaje Cigars confirmed on Facebook today that the first White Label Project cigar of 2012 is going to be released.  This cigar has been branded the Viaje White Label Project Winter Classic.
From the packaging, we are able to confirm that this will be a Corojo wrapper cigar in a 4.5 x 48 sized vitola.
While nothing has been released on country of origin of the wrapper or the binder/filler, one can infer that this will most likely be a Nicaraguan puro – as this has been par for the course with Viaje.  The packaging is consistent with the Viaje White Label project releases as it is bundled in a "newspaper" wrapper".   The allocation indicates 250 bundles – which most likely will translate to 1 to 2 bundles per authorized Viaje retailer.
For those not familiar with Viaje's White Label Project concept, these are a series of cigars that are deemed somewhat experimental by Viaje.
We will have more details as they are made available.