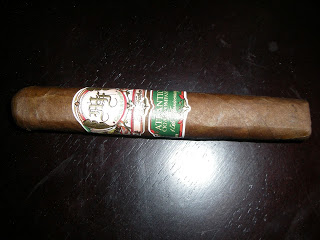 My Father Atlantic Cigar Company 15th Anniversary
Over the past year, My Father Cigars has become a player in the area of retailer exclusive cigars. Last month, it was announced that My Father would be releasing a retail exclusive to Pennsylvania based retailer Atlantic Cigar. This cigar is part of a series of cigars made by manufacturers to commemorate Atlantic Cigar's 15th Anniversary. The cigar is appropriately titled the My Father Atlantic Cigar Company 15th Anniversary. This cigar proves that My Father Cigars is really finding a niche in this area of retail exclusive cigars as the 15th Anniversary might prove to be one of the best blends produced by My Father yet.
The My Father Atlantic 15th Anniversary is the second cigar to be released as far as Atlantic Cigar's 15th Anniversary Series has gone (the first being a Viaje Exclusivo Lancero). Atlantic Cigar Company made a decision to create a box-press cigar modifying the blend of the core-line My Father.
According the Atlantic Cigar's web-site, the modifications were some tweaks done to the filler. The story goes on that samples were smoked while watching baseball and drinking rum at Don Pepin Garcia's house.
The My Father Atlantic Cigar Company 15th Anniversary is intended to be a one time release with 400 boxes of 15 – for a total of only 6,000 cigars. Let's take a closer look at the My Father Atlantic 15th Anniversary and see what it beings to the table.
Blend Profile
The My Father Atlantic Cigar 15th Anniversary features a wrapper similar to the core-line My Father line. The wrapper comes from the Oliva family Ecuador farms. The cigars are made at the My Father Cigar factory in Nicaragua.
Wrapper: Ecuadorian Habano Criollo
Binder: Nicaraguan
Filler: Nicaraguan
Vitolas Available
This cigar will be only made available in a 5 1/2 x 52 box-press robusto. This is a similar-size vitola to what was done for Smoke Inn's My Father El Hijo. However the El Hijo is a different blend highlighted by a different wrapper and also features an exposed (shaggy-like) foot.
Appearance
The My Father Atlantic Cigar 15th Anniversary is highlighted by its colorado (reddish) brown box-press wrapper. The wrapper itself is smooth and not oily. There are a few veins and a few visible wrapper seams, but overall the wrapper is not toothy.
There are two bands on the cigar. The first the the traditional pink, red, green, gold, and white My Father band – that has really become synonymous with My Father Cigars. There is a second band directly under that band. It is mostly green and features "Atlantic" in pale yellow font. Below that text is "Cigar Company" in smaller pale yellow font, and below that is "15th Anniversary" in cursive pale yellow font. To the left and right of the "15th Anniversary" is the text "My Father" in very small pale yellow font. There are also some red, green, gold, pink, and white colors that second band.
Preparation for the Cigar Experience
As I do with the majority of my smokes, I opted to use a straight cut on the My Father Atlantic Cigar 15th Anniversary cigar. I commenced with a pre-light draw and was treated to notes of cedar and coffee on the primary notes. I also was able to pick up a little cinnamon and graham cracker in the background. While I don't score the pre-light draw experience, I will say this cigar had a very good dry draw. It was now on to fire up my My Father Atlantic 15th Anniversary and see what this cigar had in store.
Flavor Profile
Out of the gate, the My Father Atlantic Cigar 15th Anniversary hit me with some spice. It was a classic Garcia pepper blast that also had some shades of cedar to it. As the spice settled down following the blast, it became more of a classic baker's spice. I also detected some notes of graham cracker that I had previously picked up on the pre-light draw.
Around five percent, an orange-like sweetness emerged and quickly moved into the forefront. The orange flavors became bold rather quickly. The baker's spice became a secondary note while the graham cracker faded significantly. As the cigar progressed through the first third, both the sweetness and spice slowly became dialed back. I was worried the flavors of this cigar were going to fizzle out. However, toward the end the graham cracker that was present early on resurfaced and things would soon change.
In the second third, the orange and spice notes became to pick up and get bolder. The orange and spice notes alternated as to what was in the forefront during the second third. The graham cracker flavors could still picked up from time to time. As the My Father Atlantic 15th Anniversary went into the last third, the spice notes took control. The sweetness from the orange changed somewhat (and I couldn't put my finger on it), but this still was very good. There was some spice on finish – which was flavorful and not harsh. The nub was outstanding – cool in temperature and firm to the touch.
Burn and Draw
The cigars for this assessment were ordered via mail by Atlantic Cigar Company. Normally, I age my cigars for a couple of weeks to stabilize them from shipping. With the cigars for this assessment, I smoked them immediately. There was no stabilization needed here. The burn was sharp from start to finish – requiring few touch-ups. The burn rate and burn temperature were ideal. As for the draw, this was one of the better box-press draws I have gotten on a cigar. The My Father Atlantic 15th Anniversary gets perfect scores here.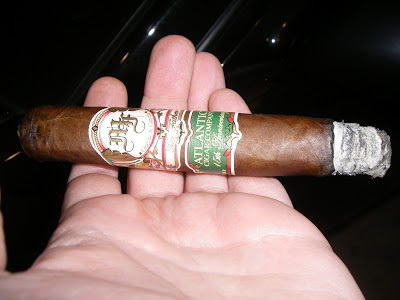 Burn of the My Father Atlantic Cigar Company 15th Anniversary
Strength and Body
From a nicotine standpoint, for the My Father Atlantic 15th Anniversary, I would assess the strength to have just enough to qualify to be in the medium to full range. This isn't going to hit you with a lot of buzz, but it will still provide enough if you like something on the stronger side. As for the body, it starts out as medium to full-bodied. Toward the end of the first third, it dials back to medium-bodied. By the time the cigar reaches the second half, it progresses slowly to full-bodied. Outstanding balance between the strength and body attributes – providing a good dose of power and lots of flavor.
Final Thoughts
It is amazing what a "tweak" to a blend can do. I also think the box-press robusto works perfectly with this particular blend. While I have liked the core My Father line, this was a cigar that was an unbelievable experience to me. This is as good a cigar that I have had from My Father. I believe this is a cigar is more suited for the experienced cigar enthusiast, but there really isn't a reason why a novice couldn't try this. As for myself, while this is not only a cigar I would smoke again – it would be one I would put on a list for a box purchase.
Summary
Burn: Excellent
Draw: Excellent
Complexity: Medium
Strength: Medium to Full
Body: Medium to Full (Start), Medium (toward end of 1/3), progresses to Full (by second half)
Finish: Excellent
Assessment: Memorable
Score: 93
Source: The cigars for this assessment were purchased from Atlantic Cigar Company.