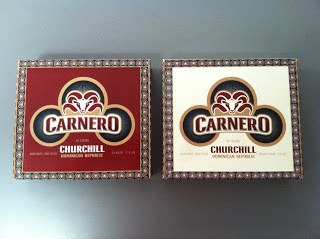 JM Tobacco's new entry into the handmade, long-filler premium cigar
market, Carnero, now adds a third blend, with a potent and
full-flavored Cameroon wrapper
Carnero,
J.M. Tobacco's First Full Premium Cigar Now Available in Cameroon
Wrapper
Late 2011 saw JM Tobacco, Inc., announce its first entry into
the all long-filler, handmade boutique premium cigar market, with
"Carnero," in full-bodied Corojo, and surprisingly medium-full
Connecticut Shade wrappers. Company president Anto Mahroukian
describes it as "being all about strength. 'Carnero' is
Spanish for the tough, formidable mountain ram, which we feel fits
the brawny cigar.
"Many of the first orders for Carnero came from JM's
reputation with its retailers. We earned that reputation over 12
years of making top-quality, value-priced JM's Dominican brand
cigars."
Before JM received its first shipment of production Carneros,
retailers and consumers began asking Mahroukian for an even more
powerful Carnero, to meet an increasing demand for large and very
potent cigars. The problem lay in finding a tobacco that wasn't
only strong, like too many today, but that was also very flavorful.
The tobacco mentioned most often was African Cameroon, known not only
for its strength, but also for its abundant flavor, combined with an
appealing warm hue. Mahroukian confirmed its availability with the
leaf processer, and the green light was on.
The newly-created Carnero Cameroon, like the original Corojo and
Connecticut Shade Carneros, comes in four classic Cuban shapes: …
6" x 44, 5.5" x 50, 6.75" x 50, and 6" x 52 (Belicoso).
Like the Corojo and Connecticut presentations, the Carnero
Cameroon comes in a heavy cardboard, Cuban-style "dress-up" box,
individually protected in cellophane. The box art is the company's
forceful ram's-head logo. At a manufacturer's suggest retail
price range of $5 to $6, these boutique cigars are reasonably priced,
as are all JM cigars. "Carnero, in all three wrappers," states
Mahroukian, "is tailored to veteran smokers, who want the perfect
complement to a steak dinner, red wine and maybe spirits."
The tobacco in all three Carnero cigars is aged a full two
years, with another six months on the finished cigars. All three
Carneros are available at tobacco retailers nationwide.
Source: The press release was sent from Dale Scott who represents JM Tobacco.