1NEW PRODUCT RELEASE
Urbano Cigars, Inc.
Tampa, Florida
Phone: 813-967-7826
Fax: 813-994-1543
E-mail: Matt@UrbanoCigars.com
Contact: Matt Urbano FOR RELEASE:
March 25, 2012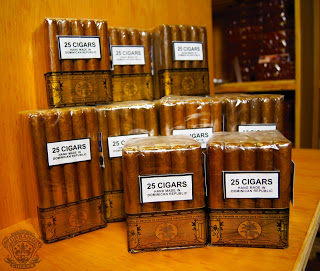 The second Urbano
Economy Bundles … hand-made, all aged tobacco value-priced bundled
cigars, with mixed-filler, are now available in 4 shapes, 2 wrappers
Urbano Cigars' Third
Salvo: Handmade Mixed-Filler Bundled Cigars … Priced Under $1.50
This February,
Matt Urbano, founder and president of Urbano Cigars, Inc., introduced
his top-tier, value-priced handmade bundled cigars, in 5 wrappers and
5 shapes. These 100% long-filler, handmade cigars use only Dominican
tobaccos from his top-rated boutique premium boxed cigar production.
Urbano now
announces his third line … mixed-filler, value-priced handmade
bundled cigars, this time in two wrappers and 4 classic shapes. The
filler is picadura (trimmed remnants) from his boutique cigar
lines. Also, like the long-filler Economy Bundles, each bunch is
blended to match its corresponding wrapper, insuring a more
harmonious smoking profile.
To enhance
smoking satisfaction even more, the line's filler tobaccos are
triple-fermented and aged a full 2 years. The more painstaking
triple fermentation "sweats" the tobacco for 3 successive
durations, each at a lower temperature. This gentler, slower process
purges the leaves of more ammonia-producing impurities than
commonly-used two-stage fermentation. All the company's cigars …
Urbano boxed boutiques, and long- and mixed-filler Economy Bundles
alike … maintain their flavor to a nub, without the bitterness
found even in the top-shelf premiums.
The
mixed-filler bunch combines a supporting "backbone" of
full-length leaf(ves), surrounded by medium-length (1" to 3")
picadura. The worker then wraps the bunched filler in 2 binder
leaves, laid lengthwise instead of spirally, one outside the other.
The combined long-leaf spine and extra binder make a solid enough
cigar to consistently grow 2″ ashes … contrasting with the
prematurely-falling ashes of lower-quality picadura cigars. Finally,
a double-capped head prevents the annoyance of the cap unraveling in
the mouth.
These
mixed-fill cigars are now offered in Maduro and Connecticut Shade
wrapper blends, which are enjoying the greatest sales and receiving
several 90+ media ratings … especially the Connecticut Shade, for
its surprisingly full flavor and hearty medium body.
The cigar comes
in Robusto, Toro, Churchill, and Torpedo. The 6″ x 60 in
Urbano's other cigar lines may appear at IPCPR 2012 … Urbano
observes, "This new, oversized shape is breaking loose all over the
cigar landscape. Smokers are exploring huge-girth cigars, and 6" x
60 is the most asked-for size."
These cigars
save money by being unbanded and cellophane-bundled. More important
than bands, each cigar is protected in its individual cellophane
sleeve. All these mixed-filler cigars retail below $1.50. (Urbano
has noted some retailers breaking bundles and selling single sticks
for up to $3.00.) The cigars are presented 25 to a bundle … Urbano
reminds readers, "Be sure to check the cigar count, when comparison
shopping. Some competitors are now reducing bundle count to 20, and
we've even seen 16-cigar bundles.
"Urbano
mixed-filler Economy Bundles are available now, as are all Urbano
cigars. Both of our Economy Bundle lines and our boutique premium
cigars are also offered direct to smokers, on our Web site,
www.UrbanoCigars.com, if they have no Urbano retailer in their zip
code."

Source: The press release was sent from Dale Scott who represents Urbano Cigars.