ASYLUM CIGARS KICKS IN THE DOORS WITH INAUGURAL
LAUNCH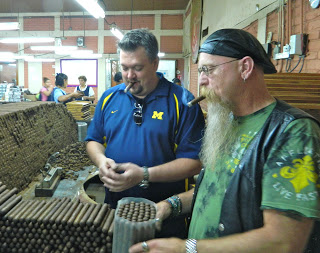 Tom Lazuka and Kevin Baxter – co Founders of Asylum Cigars
Miami,
Florida – 18 June 2012 – Asylum Cigars kicks in the doors with inaugural launch.
The first-ever release from Asylum Cigars will
soon be ablaze in cigar shops nationwide. Kevin Baxter and Tom Lazuka, the dynamic co-founding duo, are introducing two lines—
Asylum
, which makes its eponymous
debut—and it's sibling,
Asylum 13
. In
addition, they'll launch their second brand,
Schizo
. What many would say is a, "take no prisoners" approach,
Asylum Cigars is breaking out with a diversity of taste profiles and formats at
very approachable prices, achieving their goal of appealing to a broad cigar
audienc
e at every level.
Baxter and Lazuka are proud that Asylum Cigars
will provide customers a diversity of new experiences. Lazuka noted, "By
partnering with Christian Eiroa and his company, Tabacaleras Unidas, we have a
platform that gives us the ability to create full-body, high-palate-impact to
truly flavorful medium bodied cigars and our formats range from 44 x 4 to 70 x
7, all rolled with the finest available Nicaragua tobacco reserves." Baxter
added, "Developing blends that will satisfy customers and leave them wanting
more was no easy task but we believe we've done just that."
Asylum's second brand, Schizo, is solidly packed with a mild-to-medium taste profile that
delivers a cool smoke with clean tobacco flavor. Baxter quipped, "It's a short
filler smoke that thinks it's a long filler cigar." Priced to enjoy at least
once a day, everyday. Bundles come in 4 sizes, 50 x 5", 50 x 6", 50 x 6"
(torpedo), and 60 x 6".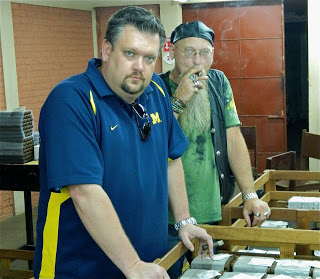 The premium Asylum line, medium-to-full body and full-flavored, will come in four sizes, 44 x 4", 50 x 6, 54 x 6 (torpedo) and 60 x 6″, with suggested retail from $4.40 – $6.60. The Asylum 13, which meets the demand for full body and big taste, will be available in three sizes, 50 x 5", 60 x 6", and a fringe-style' 70 x 7", with suggested retail of $5, $6, and $7 respectively.
Asylum Cigars strives to provide cigar enthusiasts Refuge from Reality™, with new and innovative taste experiences. It is a holding of the Miami-based manufacturing and distribution platform, Tabacaleras Unidas Inc. For more information call 800.253.1429 or visit TabacalerasUnidas.com
Source: This press release was sent to Cigar Coop from Danielle Hawthorne of Tabacaleras Unidas. Cigar Coop prints press releases as a free service to all cigar companies.