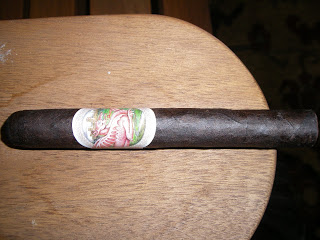 Emilio Draig K Corona
The Emilio Draig K might have been one of the most anticipated cigar releases by a smaller sized cigar company ever.   Over the past year, Emilio Cigars has grown from an unknown boutique company into a company with a solid reputation for producing great cigars.   Last year, two of Emilio's products landed in our Top 30 Cigar of the Year Countdown and one was an honorable mention.  With a solid 2011, the big question on everyone's mind is what would 2012 bring?  Toward the end of 2011, Griffith began to discuss plans for a special limited cigar project which he called the Draig K.   Since then cigar enthusiasts and Emilio fans have awaited this cigar's release.   I've recently had an opportunity to sample a Draig K, and once again Griffith strikes gold.  This might be one of the most unique cigar experiences I have ever had.
Back in December, 2011 when word came about the Draig K concept, it was intended to be a small batch, limited production cigar.  Griffith originally said the plan would be to use a different factory and produce a different blend each year, so there could be more "Draig-like" releases in the future.  However, he was quoted on his web-site saying that "Assuming continued availability of the wrapper tobacco we may produce these annually."
In a preview of this cigar, Griffith published the following information about the cigar's name:
The "K" designation and Welsh theme recognize and honor both my family heritage, and the first initial of my friend Ken, a Welshman who died in a tragic auto accident at about the same time I was finishing this blend.
Let's break down the blend and see what this cigar brings to the table.  I will disclaim this cigar assessment is based on a single smoking experience.
Blend Profile
At the heart and soul of the Draig K is a dark maduro wrapper from Colombia.   There has been no information released on the binder.  The cigars are made at Nestor Plascencia's El Paraiso factory.
Wrapper: Colombian Cubanito Maduro
Binder: Unknown
Filler: Honduran, Nicaraguan
Vitolas Available
Griffith has said at this time there will be three sizes with 400 boxes of each size released.  The cigars will be packaged in boxes of ten.
Corona: 5 1/2 x 42
Robusto: 5 x 50
Toro: 6 x 50
Appearance
For this cigar experience, I sampled the Draig K Corona. The Colombian Cubanito Maduro wrapper is one dark wrapper.  This wrapper is nearly black in color with an oily complexion.  Upon close examination there were a couple of visible veins, but you can hardly see the wrapper seams.
The banding features prominently features a pink dragon.   There is also beige and green in the color scheme.  The design was created by a friend of Griffith and Ken who was a children's book illustrator and that was the reasoning behind the pastel colors.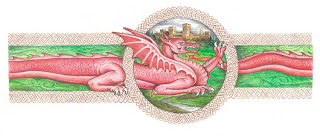 Emilio Draig K Band
Preparation for the Cigar Experience
It's no surprise to my readers when I mention that I go with a straight cut to begin the pre-light experience – and that's exactly what I did here.  As soon as I started with the pre-light draw, I noticed something different about the dry draw.  The notes I got reminded me of shaved dark chocolate and herbs.   The combination of these flavors was very unique and I can only attribute it to this special Colombian wrapper.  I don't score or factor the pre-light experience into the assessment, but I do have to say this one was as good as a pre-light experience gets.   Now it was time to fire up the cigar and see what other surprises the Draig K would introduce.
Flavor Profile
The unique qualities I got from the pre-light draw on the Draig K carried right over into the smoking experience.  The start to the Draig K had a combination of the shaved dark chocolate, leather, herbs, and herbal spice.   Eventually the cigar pretty much settled with the dark chocolate in the forefront and the herbs/herbal spice secondary.
In the middle of the first third, the spice began to change.  I was with a friend and he pointed out it was more of an apple spice – and I would subscribe to it.   There was no question in my mind – there was some magic in this Colombian wrapper.
At the midway point, the cigar began to get a little more traditional in its flavor profile.  The herbal component diminished, and the apple spice became more of a classic baker's spice.   The dark chocolate was still in the forefront as the second half began, but as the smoking experience moved to the last third, the spice took hold.   I found the finish to be spicy, but not harsh.  The resulting nub was cool in temperature, but soft to the touch..
Burn and Draw
When the Draig K was shipped, Griffith posted the following comment on Facebook:
"Draig K should begin arriving at retailers today. Over the weekend we test smoked a few, and it seems as though, considering the heat and humidity both here and in Central America, the coronas could use a bit of rest before smoking. We just felt that in all fairness to consumers we should give this advice. Not a thing wrong with them as far as construction or flavor, but they are a bit moist, likely a combination of a wrapper that does not breath well, and the smaller ring gauge. "
I did not find the corona to be moist, but I do agree with Griffith that perhaps a little time to rest it wouldn't hurt.   The only area I saw any impact was in the burn.  Usually I've had excellent burns with Emilio Cigars.  This one was a good burn, but it wasn't a great burn.  I'll infer that this was due to the heat and humidity and it's nothing some stabilization wouldn't fix.   The cigar did require several touch-ups – a little more than I would have liked on a corona.   In each case, the touch-ups did the trick but it was more of the frequency of the touch-ups.  There was one case where I did get a little tunneling, but these seemed more isolated than anything.  No issues with the burn temperature or burn rate as both were ideal.
The draw was outstanding   This was a very good corona-sized vitola to draw from.
Strength and Body
From a nicotine standpoint, I would not consider the Draig K to be a power bomb.  However it still had enough strength to be considered a medium to full strength cigar in my book.  From a flavor standpoint, there is some nice depth to the notes.   I assessed this cigar as having enough depth to be considered full-bodied.  I give the body a slight edge over the strength in terms of balancing the two attributes.
Final Thoughts
This cigar is another winner by Emilio.  From a flavor standpoint, this one is really unique and brings something different to the tables.   The burn issues were not major, and they probably are something that time will stabilize.  In six months, this cigar is going to be talked about quite a bit.   One thing to watch is whether the Draig K becomes an industry game-changer in terms of wrappers – namely the Colombian Cubanito Maduro.  It's hard to say it will be because it sounds like this is limited in supply, but it could lead to more companies seeking out other Colombian tobaccos for a wrapper.  I would definitely recommend this to an experienced cigar enthusiast, but I'd also encourage a novice to give this cigar a try.   As for myself, this is a cigar I would smoke again and seek out a box purchase.
Summary
Burn: Good
Draw: Excellent
Complexity: Medium
Strength: Medium to Full
Body: Full
Finish: Good
Assessment:  Memorable
Score: 92
Source: The cigars for this assessment were purchased from Burns Tobacconist in Chattanooga, Tennessee