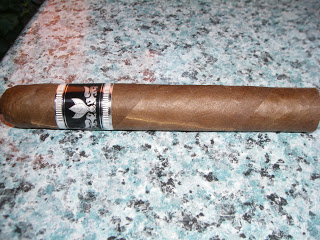 Rodrigo La Fortaleza Cinco 5
Rodrigo Cigars is a boutique blend that was founded by George Rodriguez. Recently, I paid a visit to our friends at A Cigar Smoker's Journal, and they came up with the concept of doing a joint review between our two cigar web sites. The cigar selected was the Rodrigo La Fortaleza in the Cinco 5 vitola. Given I had not had a Rodrigo Cigar up until this point, I was very happy to participate in this. At Cigar Coop, we've always embraced the concept of "Trusted Web Sites", so to sit down with Kevin Paige and Peter Glad at A Cigar Smoker's Journal, it was an honor. These guys are very forward thinking, so they threw in a little surprise for me. They arranged for a Skype video conference with Rodriguez himself, and we had the opportunity to converse with him as we smoked his cigar. We agreed that we would go with a single collaborative review, and Peter was kind enough to put this together. Overall, this is a unified assessment of the cigar, and I was really impressed by the Rodrigo La Fortaleza.
As a part of the Skype conversation, we (A Cigar Smoker's Journal and Cigar Coop) learned exclusively that Rodrigo Cigars had entered into an distribution agreement with Emilio Cigars. You can read the details here.
The Cinco 5 is one of four vitolas available in the La Fortaleza line. As many know, Cinco 5 means "55", but the interesting point is that the Cinco 5 has a 56 ring rauge. The story behind this is that Rodriguez showed a retailer a pre-release of this vitola. When the retailer asked what ring gauge the cigar was, Rodriguez replied "56". The retailer said, "it looks more like a 55", thus with a play on this exchange, Rodriguez named it a 55.
We will structure this assessment a little differently given this cigar was reviewed in a collaborative fashion. The details of the assessment are found on A Cigar Smoker's Journal. We've also annotated a few other points as well.
Blend Profile
Wrapper: Dominican (Habano Oscuro)
Binder: Dominican
Filler: Dominican
Vitolas Available
Cinco 5: 6 x 56
Absoluto: 5 1/8 x 43
Forte: 5 1/2 x 50
Elegante 6 3/4 x 48
Review Details
Here is the collaborative assessment as finalized by Peter Glad of A Cigar Smoker's Journal.
Additional Thoughts
There are two comments I made to Rodriguez during the Skype interview that I wanted to share. First up, the after-draw on this cigar was perhaps as unique as I've ever had. The sweetness and spice has a way on lingering on the tongue – and in a pleasant way. Secondly, I commented how this is a Dominican puro that really has the feel of a Nicaraguan smoke. If someone is a Nicaraguan tobacco fan, I would not hesitate to recommend this cigar.
We should also have more from our conversation with Rodriguez in the near future.
Summary
Burn: Good
Draw: Excellent
Complexity: High
Strength: Full
Body: Full
Finish: Excellent
Assessment: Nice to Have
Score: 92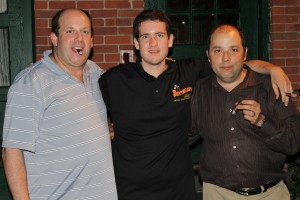 Kevin Paige (L), Peter Glad (C) of A Cigar Smoker's Journal with myself (R) – photo linked to acigarsmoker.com
Source: The cigar that we used for this joint review was provided by A Cigar Smoker's Journal.