FOR IMMEDIATE RELEASE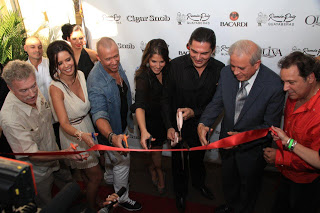 Ribbon cutting with Oliva
Cigar Co. Marketing Director John Conroy, T.V. personality Dr. Karent
Sierra, artist Carlos Navarro, Louis Puig and wife, and Miami Mayor
Tomas Regalado
THE CELEBRATION ALSO MARKS THE GRAND OPENING OF A NEW RAMON PUIG STORE IN DOWNTOWN MIAMI
(Miami,
Florida) July 10, 2012— This month marks the 40 year anniversary of the
Ramon Puig Guayabera brand here in South Florida which was celebrated
in grand style with cigar sponsor Oliva Cigar co. The King of the Guayabera legacy continues with his son Louis Puig. The reputable and world famous guayabera brand not only celebrated four decades of style, but also a new location this Thursday June 28th 2012. The
festivities highlighted the revamped brand via a by-invitation Grand
Opening of the new Downtown Miami store location and include a
presentation by Miami Mayor Tomas Regalado.
Ramon
Puig opened his first guayabera store in Cuba in 1943, in the ancestral
home of the garment, Sancti Espiritus, the city of his birth. His
attention to detail, cut, and style soon led customers all over Cuba,
the Caribbean and South America to coin him "el mago de guayabera" (The
Guayabera Magician). The guayabera shirts he designed made of crisp
white linen, slimmed customers' waistlines and added to their appearance
a look of elegance. As his reputation grew, Puig drove to the major
cities in Cuba to take client's measurements, and then made the return
trip to personally deliver his custom fitted guayaberas.
In 1968, Puig departed his country and arrived in Miami, with his wife Juana Maria and his then eight-year old son, Louis.
In 1971 Puig was able to open his first shop in Little Havana, next to
Versailles restaurant and thereafter a larger one, further west on
Southwest eight street. Rapidly making connections in Miami's Cuban and
Latin community, he built his business into an International success
with client celebrities, actors, athletes and musicians such as Sylvester Stallone, Robert De Niro, Andy Garcia, Alex Rodriguez, Alonzo Mourning, Ice Cube as well as every US President since President Ronald Reagan who
began sporting Puig's authentic guayaberas. Reagan toured Miami wearing
Puig's garments and rechristened "El Mago de las Guayaberas" as "El Rey
de las Guayaberas" (The King of the Guayaberas).
The guayabera shirt was developed in Cuba and has become synonyms with Cuban culture. When Jose Oliva
of Oliva Cigar Co. was asked to take part in the celebration he
immediately jumped on board. Although Jose himself could not attend due
to his prior commitments Oliva Cigar Co. was in full force as Director
of Marketing John Conroy was present along with their acclaimed cigar roller Jesus Roche. Event guests were able to sample Oliva Serie V cigars which have been named one of the best cigars of the year by Cigar Aficionado from 2007-2011. A sense of old Cuba hovered around the event as over 400
guests paid homage to the late Puig by wearing his world famous
guayaberas, smoking cigars, and trading stories of the late Ramon Puig.
The event culminated with a ribbon cutting ceremony which included Mayor
Tomas Regalado, Oliva Cigar Co.'s own John Conroy, T.V. personality Dr.
Karent Sierra, world famous artist Carlos Navarro, and Luis Puig.
Today,
Louis Puig is carrying the legacy of his father. "We must embrace the
past and understand the direction of the future in order to be
successful. We have added updated styles, fabrics and colors to further
expand our existent inventory and please our wide customer base. This
new store exemplifies the new direction we are taking our brand while
remaining true to the dedication and pride my father had for his craft.
For almost 70 years we have made the best and most authentic guayaberas
in the world, I am proud to continue my father's legacy."
The Ramon Puig Guayabera Store Grand Opening /40 Year Anniversary will took place Thursday, June 28th, 2012 6:00-9:00PM at 24 W. Flagler Street, Miami, FL 33130. The event was co-presented by: Bacardi, Oliva Cigar Co. Cigar Snob Magazine. Charity and promotional partners featured include: Neat Stuff for Kids, Sharing Smiles and the Greater Miami Convention & Visitors Bureau.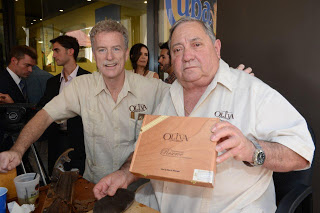 John Conroy with Cigar roller Jesus Roche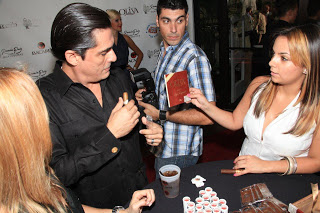 Louis Puig chatting with Oliva Cigar co. representative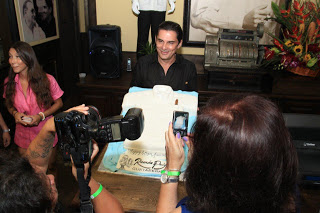 Louis Puig holding up a guayabera cake (the cake has an Oliva Cigar in shirt pocket)
Source: This press release was sent by Creativas Group
Public Relations, a group that handles public relations for Ramon Puig Cigar Coop will post press releases as a service to all
cigar/cigar-related companies that choose to send Cigar Coop press releases