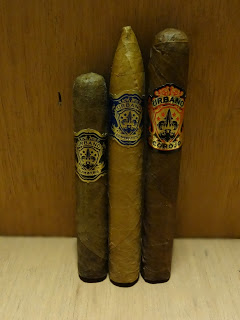 Urbano Cigars' new samplers encourage smokers
to choose their favorite boutique cigar …
Corojo, Sumatra or Connecticut
Matt Urbano just made it simpler and easier for undecided smokers to choose which of his Urbano boxed boutique cigars fits their palate. The company founder and president has just unveiled a broad selection of sampler packs of each of the three different blends.
Urbano, when asked what his favorite cigar is, quips, "The next one!" In actuality, this is true for most cigar lovers, who search endlessly for the ultimate cigar experience. "I also recognize," he continues, "that being a young company, smokers aren't sure which of our top-rated cigar selections suits them. For a small investment they can explore all three wrapper blends … our mild but surprisingly full-flavored Connecticut, our fragrant medium-bodied Sumatra, and our spicy full-bodied Corojo. The Corojo is a true puro, containing only Dominican-grown Cuban tobaccos."
All three Urbano cigars are hand-made from 100% long-filler leaf. Their first-generation Cuban seed inventory ensures strain purity and authenticity. Leaf-processing and manufacturing standards include triple fermenting the tobaccos, which eliminates the bitterness smokers encounter in the final third of other premium cigars. The tobaccos in the Sumatra and Connecticut selections are aged for two years, while those in the Corojo are aged a full three years. All Urbano boutique cigars are entubado-bunched, preventing smokers' two main complaints … off-center burns and hard draws. This requires rolling each filler leaf separately into a tube shape, to provide an even, unimpeded smoke stream down the full length of the cigar. All finished cigars rest nude for another ninety days before being banded, cellophane sheathed, and packaged in sturdy cedar boxes.
Urbano is featuring two samplers … the first has one each of the three wrapper variations; the other sampler has two each. They are available in three shapes (Robusto, Torpedo and Churchill). MSRPs for the two samplers are $17-19 and 34-$36 respectively. Other samplers are also offered, with three, six and ten cigars, all in the same shape and wrapper. The cigars are banded, individually cello-tubed, and Zip-loc® bagged. All samplers will be available this August, at tobacco retailers nationwide. Smokers who have no Urbano retailer in their zip code can obtain the samplers direct from Urbano's Web site, www.UrbanoCigars.com.
Source: The press release was sent from Dale Scott who represents Urbano Cigars. Cigar Coop prints press releases as a free service to all cigar companies.