Assessment Updates will be posted on this web-site to: 1) Assess "pre-review" cigars that were not given a rating or score (typically pre-release cigars); 2) Provide numeric ratings to cigars previously assessed prior to the implementation of the numeric scoring system; 3) Provide a re-assessment and re-score of a previously assessed/score cigars. Today, we provide an assessment rating and score to the Emilio AF Suave, a cigar we pre-reviewed back at the end of May.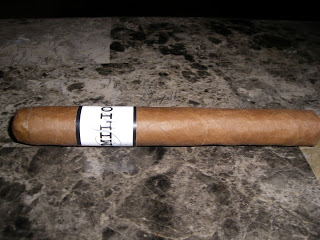 Emilio AF Suave
The Emilio AF Suave marks the third cigar in Emilio's AF series. The "AF" stands for A.J. Fernandez and that is whom brand developer, Gary Griffith collaborated with on the cigars in that series.
Back in 2010, Fernandez released his own Connecticut Shade cigar called the San Lotano Connecticut. This was our
#8 cigar for 2010
and one that we look upon as a game changing cigar for Ecuadorian/Connecticut Shade cigars. Personally, I was very anxious to see what he would do for Emilio given that the San Lotano was so good.

Fernandez and Griffith do not miss a beat here. The Emilio AF Suave provides Griffith's Emilio line with a milder, Connecticut Shade cigar, yet fully flavorful. Flavors include vanilla, dried fruit, cream, but, and black pepper. The cigar has a flawless burn and draw to it. I found the versions shipped to retailers to be much smoother in the end than the original samples I smoked.

As for strength and body, this cigar does a great job expanding the limits of what is normally found on a Connecticut Shade cigar. I found the shipped versions to be mild to medium and even closer to medium in strength. The flavors are deep and robust and easily fall into the medium to full-bodied range. Like the original pre-review provided, I sample the corona vitola here as well.

Assessment: Nice to Have
Score: 91