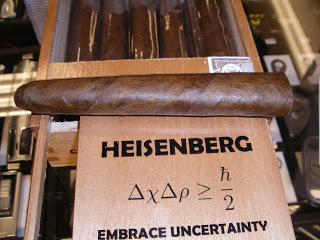 Heisenberg by Quesada – Corneta Cuadrada vitola
The Heisenberg by Quesada represents a cigar project with the theme "Embrace Uncertainty". This is a new release that is intended to create an aura or mystery around it. In other words, details about the blend, tobacco origins, factory, and quantities being made are purposely held back. The intent is not to over-analyze the composition of the cigar, but rather sit back, relax, and enjoy the cigar experience.
The name is derived the Uncertainty Principle in Quantum Mechanics named for Werner Heisenberg. Heisenberg won a Nobel Prize in 1932 for his work in Quantum Mechanics. The formula for this principle is displayed on the box in the photo to the right. The principle asserts that the position and momentum of a particle cannot be asserted simultaneously. The principle is the intent of the theme of this cigar: the idea is if we try to over-analyze the details of the cigar, the less we can derive from the experience of it.
Some samples of this cigar have shown up at various retailers. While no information on the blend has been disclosed, we do know the cigar will be released in four vitolas. No details on a ship date have been announced.
Blend Profile
Wrapper: Not disclosed
Binder: Not disclosed
Filler: Not disclosed
Vitolas Available
Petite: 4 3/4 x 40 SRP $4.50
Corona: 4 x 43 SRP $5.50
Robusto: 5 x 48 SRP $6.75
Corneta Cuadrada: 5 3/4 x 44/48/55 SRP $6.95