Miami, Florida (January 9, 2013) – Can you handle the STRONGEST cigar around? Think so? Well take the 601 La Bomba Challenge today!
Espinosa Premium Cigars announces the promotion for the 601 La Bomba Challenge, where cigar enthusiasts take a BEFORE and AFTER picture of their smoking experience with the 601 La Bomba cigar and share it on Facebook, Twitter or Instagram. The contest will run for 6 weeks and a different winner will be selected each week [6 winners in total]. The winners will be announced on the following 2013 dates 1/18, 1/25, 2/1, 2/8, 2/15 & 2/22. Each winner will receive a 601 La Bomba Ashtray and a 601 LA BOMBA SQUAD t-shirt.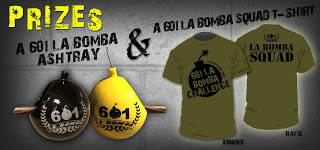 Complete rules of the contest are posted on the company's newly redesigned website www.espinosacigars.com/601labombachallenge.
The 601 La Bomba is a full bodied and full flavored BOMB! Handcrafted in Esteli, Nicaragua with 100% Nicaraguan tobacco. WARNING: Extremely full bodied cigar. Not recommended for novice smokers.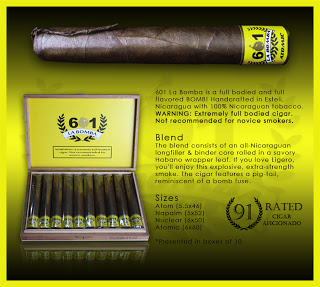 Source: This press release was sent by Espinosa Cigars. Cigar Coop will print press releases as a free service to cigar companies that choose to send us press releases.