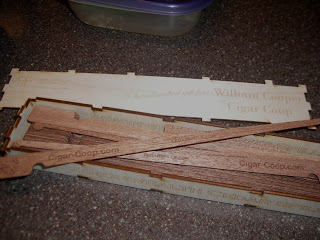 Commonwealth Cedar Spills
A cedar spill is a product that is used to light cigars. Commonwealth Cedar Spills is a company that as the name indicates, makes cedar spills for cigar enthusiasts. A cedar spill is not a new product, but actually a product that has been around some time to light cigars. In fact before the days of butane lighters and chemical matchsticks, the cedar spill was actually a traditional way to light a cigar. Recently I've had an opportunity to sample the Commonwealth Cedar Spills product. Overall, I found this a nice way to light a cigar. On top of that, this is a product that is a nice package for any cigar enthusiast.
Product Background
First up, a cedar spill is a think piece of wood. The concept behind a cedar spill is to ignite the cedar spill and then use that to light your cigar. The cedar spill is meant to provide a clean and somewhat organic way to light your cigar. It doesn't introduce any other substances such as oils and chemicals that could potentially interfere with the cigar experience.
The Commonwealth Cedar Spill is made of Spanish Cedar. This is the same material that comes in most cigar boxes. It contains very little in the way of oil. Each cedar spill measures about 10 1/2 inches in length.

Close up of a Commonwealth Cedar Spill
Packaging
One nice thing I like about the Commonwealth Cedar Spills product is the packaging. The cedar spills are available in a Russian Birch box. The box can hold around 50 to 60 Commonwealth Cedar Spills. Commonwealth Cedar Spills give you the option of putting your name and logo on both the box and the cedar spills itself. This adds a personal touch to the product and makes this an intriguing gift idea.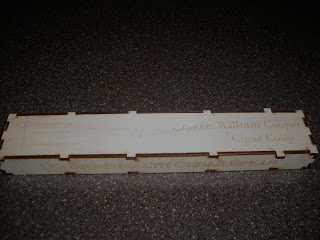 Russian Birch Box for Commonwealth
Cedar Spills
The packaging is really a differentiator to this product. I found the Russian Birch box to be a great way to transport your cedar spills. A cedar spill is a very thin piece of wood and it is something that can break rather easy. I found the box a nice way to transport your cedar spills. As someone who travels via airplane a lot, I am often in a situation where I cannot use a butane lighter. The cedar spills box can easily be put into my bag along with a box of matches, and I have a nice way to light my cigars.
Bundles of the customized cedar spills can also be purchased.
Product Usage
The Commonwealth Cedar Spills web-site has five steps to use the product. For my assessment of this product, I opted to follow these steps.
Light the spill (or have it lit for you) while holding the spill at a slight down angle.
Continue to hold the spill at a slight down angle as the flame grows. Remember these are spills not fuses or sparklers.
Place the list spill near the foot of your cigar as you slowly roll the cigar with your fingers.
Puff a few times roasting and toasting your cigar to a bright orange glow; enjoying its full flavor as the cigar maker intended.
Extinquish the spill and/or place the entire spill in an ashtray.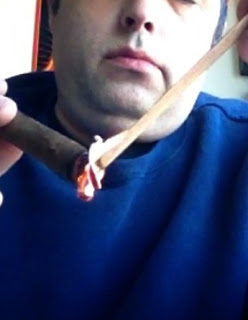 Initial toasting of the cigar with the
Commonwealth Cedar Spill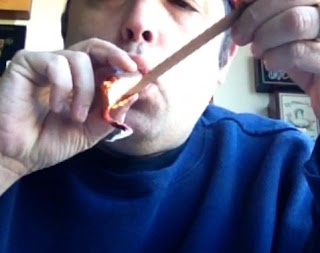 Puff and rotate using the Commonwealth
Cedar Spill
For using the product, I used both a butane lighter and a wooden match to ignite the cedar spills.
Assessment Notes
Practice: First up, the use of a cedar spill is going to require a little practice. The steps on the web-site work very well, but its almost like riding a bicycle. It's going to take a few times, but once you get the hang of it, it will be second nature.
Patience: If you are someone who likes to quickly light your cigar, a cedar spill might not be for you. The cedar spill almost encourages more attention to detail during the igniting/toasting process of a cigar. It's very important to get your cigar lit correctly, so one can view this attention to detail as good.
Safety: As it says in the steps, these are not fuses or sparklers. Once you light the cedar spill and you get a flame going, the flame tends to accelerate a bit. You are also going to need a place to extinguish or let it burn out. You don't want to do this where something is prone to easy burning. Given the Commonwealth Cedar Spill is 10 1/2 inches in length, this made the burn a little easier to manage
Value: I spent some time using this product on many cigars. One thing I wanted to see is how this made the overall cigar experience. When properly toasted, I got a nice burn to start. The flavors did seem to have an intangible feel and I had less pungency at the start of the cigar. From this point of view, I did see some advantages.
There are a few additional points to note. Overall these are more related to using a cedar spill and less related to the Commonwealth Cedar Spills product.
I found if you had a cigar with an inferior burn that required multiple touch-ups, the cedar spill adds to the nuisance. In these cases I was still prone to reach for my lighter.
If there is wind, this is going to make burning the cedar spill a little more of a challenge.


Final Thoughts
Overall, I found the use of a cedar spill a very nice way to light a cigar. It did take a little practice, patience, and an eye on safe lighting, but I did get a nice value out of the product. It gave a clean burn from both a combustion and flavor standpoint. The Commonwealth Cedar Spills product provides a nicely packaged product – and I like the fact it is a longer cedar spill. This makes a nice addition to any cigar enthusiast's accessory kit.
Assessment
: Excellent
Source: The product for this assessment was provided by Commonwealth Cedar Spills. This request was initiated by Commonwealth Cedar Spills to Cigar Coop for the purpose of providing feedback. Cigar Coop is appreciative for the sample, but in no way does this influence this review.