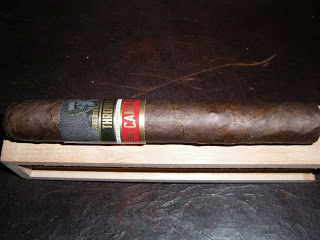 Camacho Cigars posted photos on its Facebook page of a new cigar that will be a part of its Mike Ditka line of cigars.  This cigar will be called the Mike Ditka Throwback.
The only details that we can derive from the photos is that the cigar will be a toro size and it will be packaged in an individual coffin box similar to Camacho's Liberty Series.  The packaging indicated this is a "specially handcrafted limited edition".  There have been no specifics on the blend or the dimensions of the vitola.
No timetable has been announced at this time.  The Ditka Throwback will be the fourth cigar in the Mike Ditka line of Cigars joining the Ditka Player, Ditka Coach, and Ditka Hall of Famer releases.
Ditka was a Hall of Fame tight end who played twelve seasons in the NFL.  He would eventually become the head coach of the Chicago Bears, leading them to victory in Super Bowl XX.  He also coached the New Orleans Saints and has become a popular television commentator.  Ditka has long been known for his fondness of cigars.  The Camacho line is not the first cigar to have the Ditka name.
When we talked to Camacho Cigars Head of Marketing Dylan Austin (at the launch of the Room 101 Big Delicious), he indicated to us that 2013 would be a busy year for Camacho.  The Ditka Throwback is indicative that this will indeed be the case.