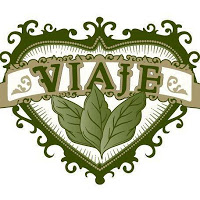 The four retailers are an increase from 2011 when the Exclusivo Chiquito was only shipped to two retailers.   The four retailers selected for 2013 are:
Cigar Pointe
San Antonio, TX
The Humidor
Wichita, KS

Riverside Cigar Shop
Jeffersonville, Indiana
Winston's Humidor
Midlothian, VA
The Viaje Exclusivo Series was launched based on Viaje founder Andre Farkas' personal blend.  It falls in line with Viaje's small batch, limited release model – namely while there have been nine vitolas, these have pretty much been released in individual batches per size.  Many of the releases have been done to a small number of retailers or have been used for events.
The Chiquito is best described as an inverse figuardo with a thin tip on the footer.
The Viaje Exclusivo Chiquito will be packaged in cabinet style boxes of 25.
Blend Profile

The Viaje Exclusivo Chiquito is a Nicaraguan puro.  

Wrapper: Nicaraguan Criollo
Binder: Nicaraguan
Filler: Nicaraguan

Vitolas Available

For completeness, we list all of the vitolas in the Viaje Exclusivo Series:
Chiquito: 4 3/4 x 51 (every two years)
Super Lance: 7 1/4 x 46 (Release Date Not Announced)
Short: 4 1/4 x 42
Robusto (2010): 4 7/8 x 50 (released in jars and bundles)
Robusto (2012): 5 x 50
Double Edged Sword: 5 3/4 x 52
Tower Cigars 45th (Boxpress): 5 1/2 x 52 (Retail Exclusive to Tower Cigars)
Corona Gorda: 5 5/8 x 46 (Event Only) 
Atlantic Cigar 15th Anniversary (Lancero): 7 1/2 x 40