The following is the official press release from La Palina Cigars on the La Palina Collection: The Goldie Laguito No. 5. We also covered the initial word of this cigar back on January 30, 2013.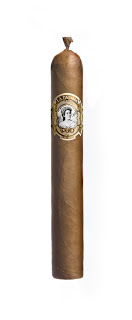 Goldic Drell Paley, the namesake of I.a Palina cigars, was the wife of Samuel Paley, who founded the company in 1896. Bill Paley, Sam's grandson and current owner, created The I.a Palina Collection Goldie to celebrate the history, contributions and accomplishments of women in the cigar industry. Bill is proud to present the initia release of the new Goldie in late May, with a second release in August of 2013. The La Palina Collection Goldie Laguito No. 5 will be limited to 2500 numbered boxes.
Produced at the El Titan de Bronze factory in the Little Havana neighborhood of Miami, the Goldie is made under the supervision of owner Sandra Cobas. The l.aPalina Goldie Laguito No.5 will be a 5 5/8 x 54 cigar and presented in boxes of 10.
Master roller Maria Sierra, who will have signed each numbered box, rolled the entire La Palina Collection Goldie Laguito No. 5 release. Maria was one of the first women trained to roll cigars in Cuba. Her historic 32 year career at Villa El Laguito began July 22, 1967. Maria is a 95 rated, category 9 roller trained by Fidel Castro's personal roller Eduardo Rivera Irizarri, as well as Avelino Lara, the creator of the legendary Cohiba blend.
Each cigar is finished in the traditional Laguito style with a fan cap, exclusively taught to rollers at Villa HI Laguito The Goldie is blended with the prized Medio Tiempo leaf, found on only 10% of tobacco plants.
The La Palina Collection Goldie Laguito No.5 embodies the tradition, expertise and passion of women in the cigar industry.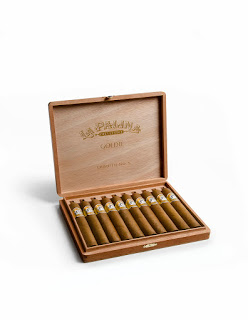 Bill Paley and La Palina will debut the La Palina Collection Goldie Laguito No. 5 at Nat Sherman International in NYC on May 9, 2013. Maria Sierra will be rolling the Goldie Laguito No. 5 at the event. Please contact Nat Sherman 1 -800-MY-CIGAR regarding attendance. The May release will be limited to 1000 boxes, and distributed to select accounts across the country. The rest of the release will become available sometime in August.
Update (5/15/13): La Palina Cigars sent out an updated press release with the photo attachments included as well as the following specifications
Size: 5 5/8 x 54
Boxes of 10
Limited production of 2500 individually numbered and signed boxes produced for sale.
Country of Origin: Miami, FL, USA
Factory: El Titan de Bronze
Wrapper: Ecuadorian Habano
Binder: Ecuadorian
Filler: Nicaraguan, Dominican
MSRP:
$190.00/box
$19.00/each
Source: This press release (and update) was sent to Cigar Coop by La Palina Cigars. Cigar Coop will post information as a free service to all cigar companies that choose to send Cigar Coop press releases.