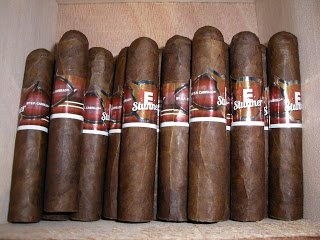 E-Stunner by E.P. Carrillo
At the 2013 IPCPR Trade Show, E.P. Carrillo proved to be one of the busiest booths of the year. Much of the buzz was around the latest line to be launched by Ernesto Perez-Carrillo Jr. and his family – the E-Stunner.
In a discussion we had with Ernesto Perez-Carrillo III he mentioned the E Stunner is the third regular production line. The first line is the E.P. Carrillo line (consisting of the New Wave Connecticut, Core Line, and Cardinal blends). The second was the Inch line, which he feels broke new ground in terms of the big ring gauge market – and now the E Stunner.
"We're looking for something that is full-bodied, full-flavored, yet balanced, complex – a cigar that really incorporates everything we've learned over the last three to four years," said Perez-Carrillo III.
In terms of an E.P. Carrillo line, the E Stunner brings in totally new packaging. In this case the packaging has a western theme. Perez-Carrillo III commented, "The packaging is obviously different. We wanted the names to be different. We wanted it to be something very different than we had already so it doesn't compete with our other stuff – and at the same token we wanted to see if we could reach a younger demographic."
Both Perez-Carrillo III and his sister Lissette played a key role in the project with their father Ernesto Perez-Carrillo Jr. The approach to how the cigar was blended was different when compared to other E.P. Carrillo products. Traditionally the ratio of Dominican to Nicaraguan tobacco in an E.P. Carrillo blend has been 80/20. With the E-Stunner, the ratio is 50/50.
The wrapper is an Ecuadorian Sumatra wrapper, but it comes from a higher priming. Combining this wrapper with the 50/50 ratio of Dominican to Nicaraguan, the E-Stunner is intended to have more power – thus its name.
Perez-Carrillo III told us we should start seeing the E-Stunner in the late August, mid September timeframe.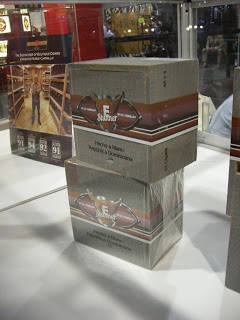 Packaging of the E Stunner
Blend Profile
Wrapper: Ecuadorian Sumatra
Binder: Nicaraguan
Filler: Nicaraguan, Dominican
Vitolas Available
.
The E Stunner will be packaged 24 cigars per box with a price point of $5.50 to $7.20. The names are all from cattle names. The western/cattle theme is also reflected in the packaging.
Corriente: 4 x 46 (SRP $5.50)
Siboney: 5 x 50 (SRP $6.45)
Brahman: 5 1/2 x 54 (SRP $7.20)
Updated 8/19/13: Additional information provided by E.P. Carrillo.