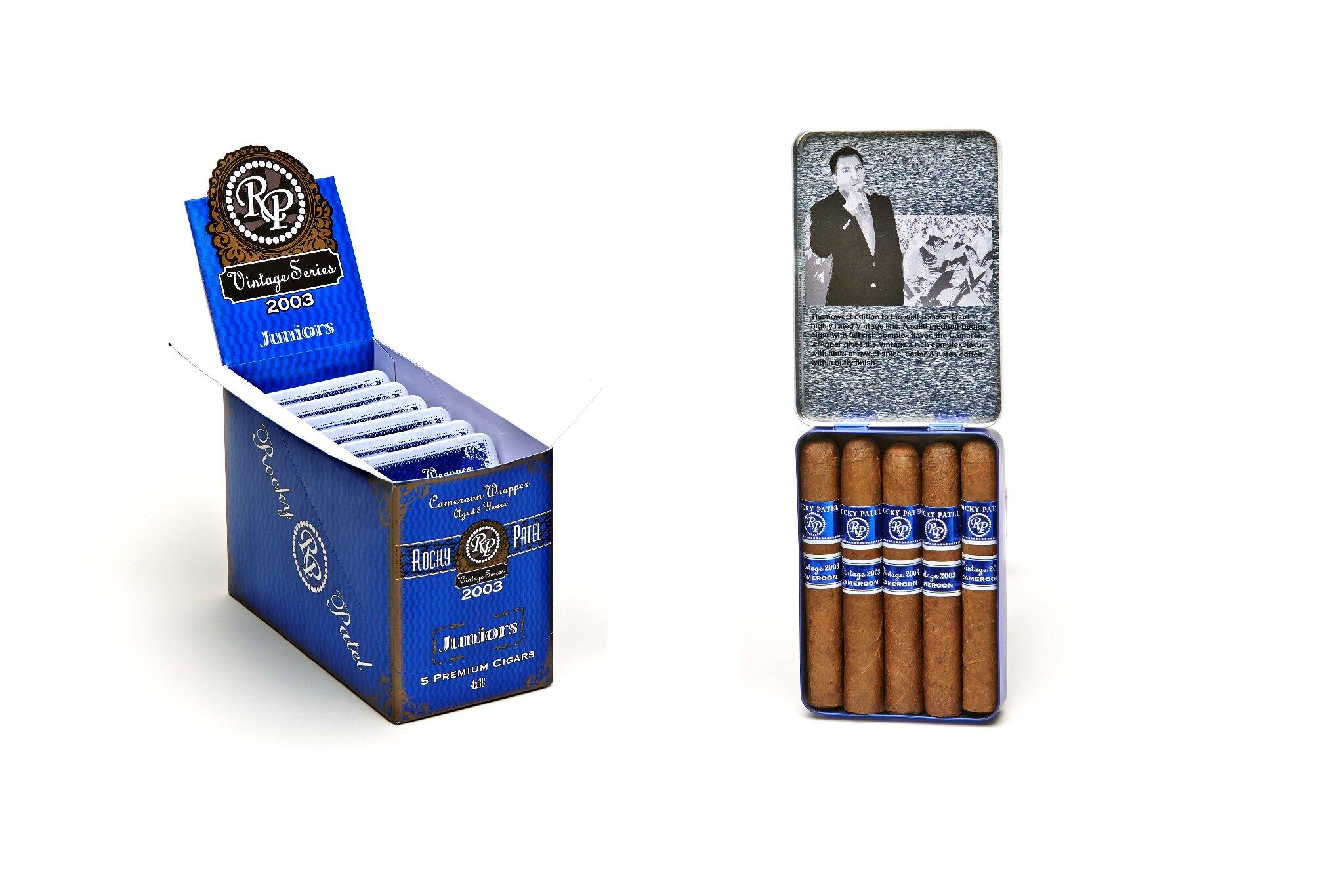 Rocky Patel Vintage 2003 Cameroon Juniors
(Photo linked from Rocky Patel Premium Cigars
Twitter Account)
Rocky Patel Premium Cigars announced on their Facebook and Twitter accounts that the Rocky Patel Vintage 2003 Cameroon will be available in its "Junior" size format. This is a 4 x 38 sized vitola that will be packaged in tins of five.  The launch of this line extension will happen at the 2013 IPCPR Trade Show in Las Vegas.
This is the third year in a row, the Vintage 2003 Cameroon has had new product at the show.  In 2011, the Rocky Patel Vintage Cameroon was launched.  This was followed up in 2012 with Special Edition Box-Press line extensions.  This year introduces the Juniors format.
The Rocky Patel Vintage 2003 Cameroon  finished as our #15 Cigar of 2011.  At a glance, here is a summary of the cigar line:


Blend Profile

The following is the blend profile for the Rocky Patel Vintage 2003 Cameroon

Wrapper: Cameroon
Binder: Nicaraguan
Filler: Dominican, Nicaraguan

Vitolas Available

The Vintage 2003 Cameroon Juniors become the ninth vitola in this line:

Juniors: 4 x 38
Robusto: 5 1/2 x 50 
Toro: 6 1/2 x 52  
Torpedo: 6 1/4 x 52  
Churchill: 7 x 48  
Sixty: 6 x 60
Special Edition Box-Press Series:
Robusto (box-press): 5 1/2 x 50 
Toro (box-press): 6 1/2 x 52
Torpedo (box-press): 6 1/4 x 52