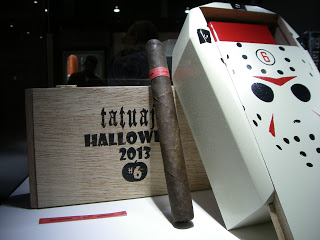 Tatuaje Cigars has officially announced on its Facebook page the list of its its thirteen "Unlucky Retailers" who were chosen to receive dress boxes of the sixth release of Tatuaje's Monster Series – the Tatuaje No. 6 a.k.a the JV13. This means that thirteen retailers will able to acquire the custom-designed boxes with the 2013 Monster theme for sale. Other authorized Tatuaje retailers will be able to acquire plain boxes.
The dress box for 2013 is in the form of a hockey mask representing the Jason Voorhees character from Friday the 13th. This is the genesis of the JV13 name.

Over the past few years, this has typically become one of the most anticipated cigar releases of the year by many cigar enthusiasts. As in the past, a pre-announcement of these retailers was made to the Tatuaje Saints and Sinners club this past Friday.
It is anticipated that most Tatuaje accounts will be able to get the plain boxes, but in the past the Unlucky 13 have gotten a larger allocation.

Check out our preview we did on the Tatuaje Monster No. 6 JV13.
The Unlucky 13
Atlantic Cigar Co (Folcroft, PA)
Buttheads Tobacco Emporium (Danbury, CT )
Cigar Master (Boston, MA)
Don Francisco Cigars (East Brunswick, NJ)
Fine Ash Cigars (Avondale, AZ)
Havana House (Akron, OH)
Humidor Pipe Shop (Huntsville, AL)
Leesburg Cigar and Pipe (Leesburg, VA)
Liberty Tobacco (San Diego, CA)
Prime Cigar and Wine Bar (Boca Raton, FL)
Town & Country Cigar Bar (Euless, TX)
Tobacco Shoppe of Midland (Midland, MI)
Union Cigar Society (Seattle, WA)