"The recipe for the Liga Privada seems to be a real effective one and for the most part the concoctions that have been derived from the core lines of No. 9 and T52 seem to work well. The UF-13 Dark is no exception."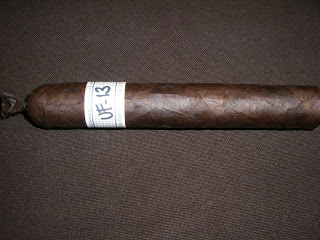 #8 – Liga Privada Unico Serie UF-13 Dark by Drew Estate
Coming in at #8 on the 2013 Cigar of the Year countdown is the Liga Privada Unico Serie UF-13 Dark by Drew Estate.  The UF-13 Dark was a long awaited installment into Drew Estate's Unico Series.  It's a cigar that has floated around as an event only cigar, but in different forms and blend tweaks.
The UF-13 Dark gives Drew Estate its second entry in the 2013 Cigar of the Year countdown – becoming the third company thus far to slot multiple entries on the countdown.  The "year of the maduro" continues as this is the ninth maduro to appear on this year's countdown.  It also becomes the fourth Connecticut Broadleaf cigar on this year's countdown.

Former Drew Estate CEO Steve Saka has described the Unico Serie as:
"At this point, we have made 200 or more Liga Privada blends. There are probably 9 or 10 of them so far that are exceptional, however their blends differ from both the No. 9 and the T52 branded cigars. They're cigars that work as a particular size, such as a lancero or corona, with the blend being unique to that particular vitola."  
In particular, this case the UF-13 Dark blend has a similar profile to the Liga Privada No. 9, but is a different blend.  The UF-13 was blended was a robusto.
Drew Estate hits a home run with the UF-13 Dark.  The cigar delivers a lot in the way of flavor nuances and flavor transitions.  I was able to detected notes of pepper, coffee, leather, nut, and even lemon.  I would still categorize this as a full strength, full-bodied smoking experience.
Click here for our assessment of the Liga Privada Unico UF-Serie UF-13 Dark.

Blend Profile

Wrapper: Connecticut Broadleaf Dark Mediums
Binder: Plantation-Grown Brazilian Mata Fina
Filler: Select Honduran and Nicaraguan Cuban Seed

Vitolas Available

As with all Liga Privada Unico Serie cigars, there is only only vitola for the blend.  The UF-13 Dark is a 5 1/2 x 52 robusto-sized vitola

Score: 95 (3/29/13) 
Assessment Rating: 4.5 – Fight Chuck Norris for Them

For more information on our vision and criteria for the 2013 Cigar of the Year countdown, see our December 2013 Editor's Corner.