Assessment Updates will be posted on this web-site to: 1) Assess "pre-review" cigars that were not given a rating or score (typically pre-release cigars); 2) Provide numeric ratings to cigars previously assessed prior to the implementation of the numeric scoring system; 3) Provide a re-assessment and re-score of previously assessed/score cigars. Today, we re-assess the Rocky Patel Private Cellar. This was a cigar we assessed back in November, 2012.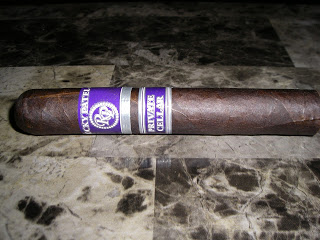 Rocky Patel Private Cellar
The Rocky Patel Private Cellar was one of six releases launched by Rocky Patel Premium Cigars at the 2012 IPCPR Trade Show. Of those six releases, it was the Private Cellar that was one of the last to make its way to retail shelves. The origins of this cigar is that it started out as something that was one of company president Rocky Patel's personal favorites. When I smoked this a year ago, I thought it was OK, but could benefit from some more age. Now with approximately one year of age in the cigar humidor and revisit this blend.

The Rocky Patel Private Cellar consists of a Nicaraguan binder and filler covered by a Connecticut Broadleaf wrapper. The cigar was launched (and is still available) in three sizes: Robusto (5 x 50), Toro (6 1/2 x 52), and Torpedo (6 1/8 x 52). As we did a year ago, I revisited the robusto size.
As I did a year ago, I picked up notes of chocolate, dry wine sweetness, leather, and pepper. As for the dry wine sweetness, it was hard for me to tell whether the purple band was putting the thought "wine" into my head – or if the purple band was the result of the cigar having this sweetness. In any case, the dry wine sweetness was something I detected a year ago – and something I detected now. The nice change was that there was an improvement on the "back nine". Last year I though the flavors ran out of gas toward the end. This year, I felt the flavors remained until the end. I found the flavors to be medium to full-bodied, and the strength right in the middle of the spectrum at medium.
One thing that I have been amazed with is the burn and draw of this cigar. This consistently has delivered a straight burn line requiring minimal maintenance. The resulting ash was tight and white. The draw had a touch of resistance – something I would like.
While our score went up only one point to 89, we made scoring changes over the past year – and introduced our Stogie Geeks rating system. There is no doubt this cigar has improved and was helped by age.
Click here for our original assessment of the Rocky Patel Private Cellar.

Original Assessment: See What You Think
Re-Assessment: 2.5 – Try One
Original Score: 88
Re-Assessed Score: 89


References

Source: Purchased
Stogie Geeks Podcast: n/a
Stogie Feed: n/a