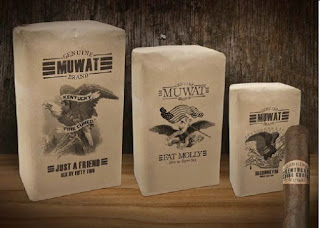 Drew Estate Chairman Jonathan Drew took to his instagram account to give an update on the status of the MUWAT Kentucky Fire Cured line.
In a written comment by Drew, he said the following:
"Cigars
are closer to their national release. I apologize for their numerous
push backs from their original planned date. … Please allow me to
explain the reason for its delay. KFCC is a pioneer brand to incorporate
a very special tobacco type, called "Dark Fire Cured", which comes from
a special, proprietary tobacco seed, called KY190, Burley. After this
seed becomes a plant and is removed from the farm, the real magic takes
place – the barn curing. This curing process happens rapidly, under the
smoking of woods, such as Hickory and Maple – allowing this special leaf
to demonstrate a smoky and voluptuous character. The delays are do to
the high humidity level of the leaf (caused by special fertilizers) as
it blends with the traditional black air cured tobaccos … The Kentucky
Fire Cured has been aging in its special chamber and very close to
shipping from Nicaragua."

The MUWAT Kentucky Fire Cured line marks Drew Estate's entry into the area of Fire Cured tobacco. While there are several fire cured releases, the Drew Estate release is unique in that it features a fire cured wrapper. Drew Estate announced the Kentucky Fire Cured in early April and showcased the cigar at the 2013 IPCPR Trade Show. It had been anticipated there would be a Fall, 2013 release date.