Assessment Updates will be posted on this web-site to: 1) Assess "pre-review" cigars that were not given a rating or score (typically pre-release cigars); 2) Provide numeric ratings to cigars previously assessed prior to the implementation of the numeric scoring system; 3) Provide a re-assessment and re-score of previously assessed/score cigars. Today, we re-assess the La Musa Melete by Emilio Cigars. This was a cigar did a pre-release review back in December, 2012.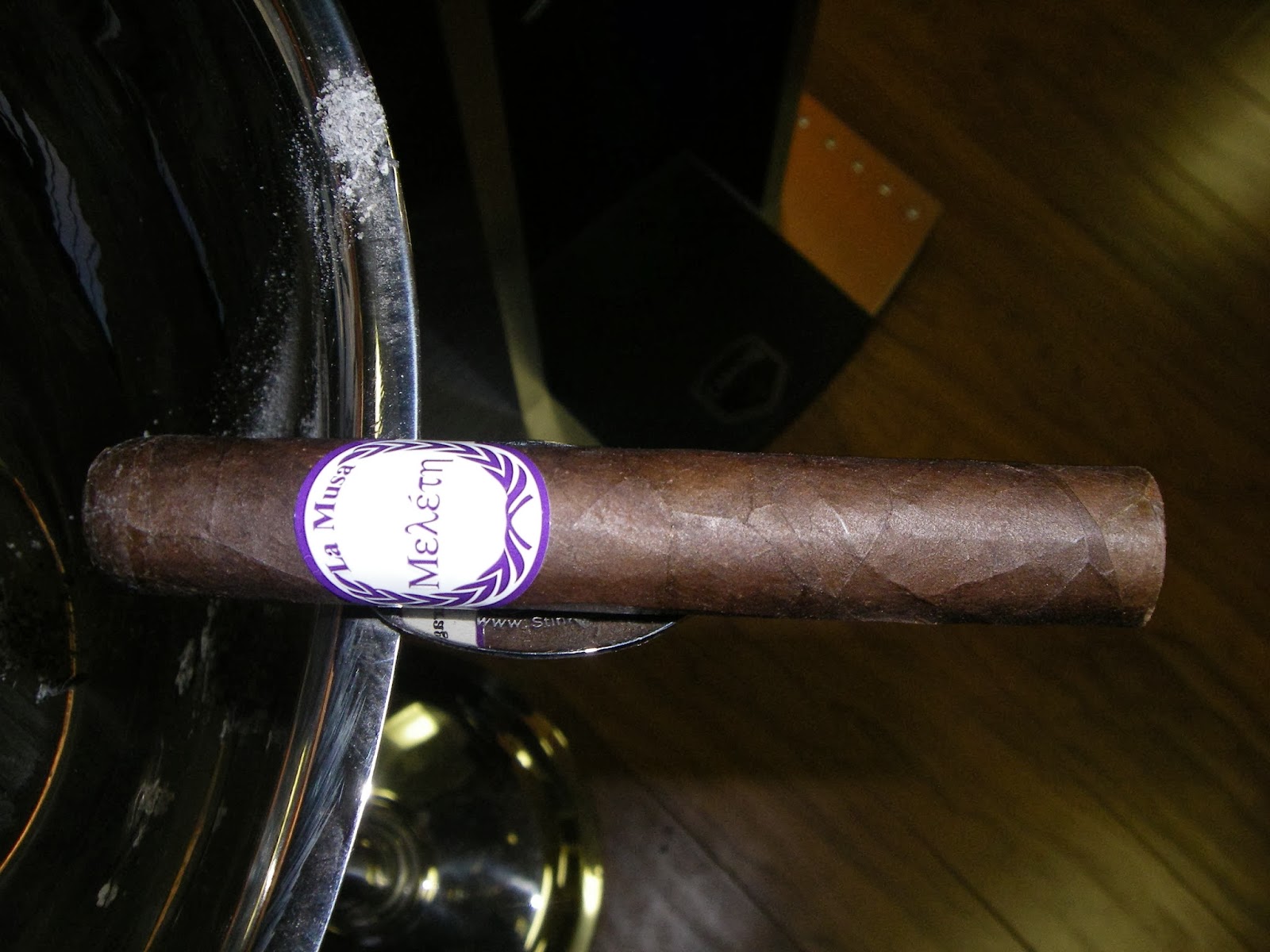 La Musa Melete (Robusto) by Emilio Cigars
The La Musa Melete is the second release in Emilio Cigars' La Musa line. In 2012, Emilio Cigars brand developer Gary Griffith announced he was rebranding highly acclaimed Grimalkin cigar to La Musa Mousa. As a part of that rebranding, there would be additional blends added to the La Musa line, and the Melete would be the first addition. Today we revisit the Melete with about seven months of age on this cigar.
The La Musa is a tribute to a friend of Griffith, but it also follows a Greek mythology theme. In Greek mythology a muse is a goddesses inspired by literature, science and the arts. For the La Musa Mousa, Mousa refers to a type of goddess of poetry and art. The Melete is the muse of thought and meditation.

The blend of the La Musa Melete is not disclosed and the factory has not been made public. The Melete comes in five sizes: Robusto (5 × 50), Toro (6 × 50), Torpedo (6 × 52), Corona (5 1/2 ×46), and a Lancero (7×40). In this assessment update, we revisit the Robusto – the size smoked for the original assessment.
The Melete doesn't have a dominant flavor, but a lot of good flavors working together. Instead t found the Melete to deliver a mix of chocolate, leather, citrus, and exotic spice. This time around I also detected a slight nut flavor in the background. I did detect the chocolate more on the after-draw and it even layers with some of the spice on retro-hale. I found the flavors to be mostly on the medium to full-bodied side. While this was advertised as a stronger cigar than the La Musa Mousa, this is not something I detected with the Melete. Overall I assessed the Melete as being medium strength. The Melete also delivers a stellar burn and draw.
The original La Musa Mousa (Grimalkin) is probably the top cigar that Emilio Cigars has released. I wouldn't put the Melete in that same category, but it's still a fine cigar in its own right – and one I would smoke again.
Click here
for the pre-release assessment of the La Musa Melete.
Assessment: 3.0 – The Fiver
Score: 90
References

Price: $7.80
Source: Purchased