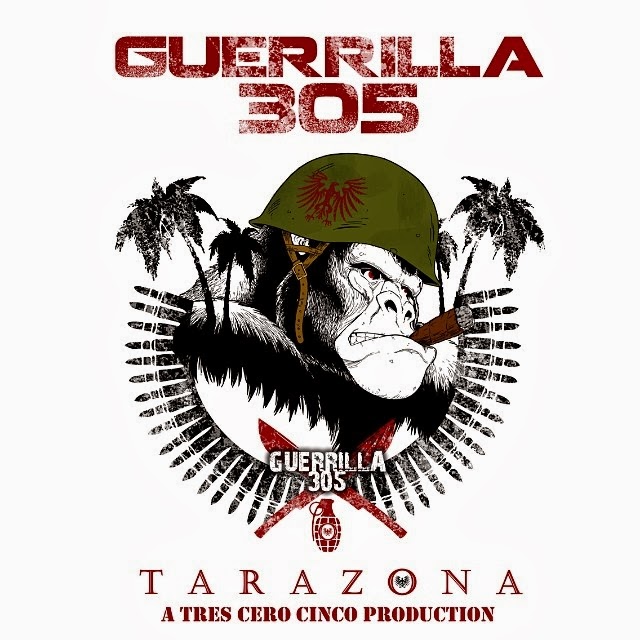 Tarazona Cigars is launching a new line called the Guerrilla 305. For this project, the company is turning to Tabacalera William Ventura in the Dominican Republic to make this new line and is working with Robert Caldwell, of Caldwell Cigar Company as a consultant. Following the recent split with Cubanacan Cigars, Eddie Tarazona had told Cigar Coop of a new project in the works.
The line will consist of two blends. On Memorial Day 2014 (May 26th, the company will launch five vitolas of its core line that will feature an HVA (Habana Vuelta Abajo Ecuador) wrapper. This will be following on Veterans Day 2014 (November 11th) with the Guerrilla 305 Black Sheep. The Black Sheep will be a maduro release in a 7 x 38 lancero frontmark.

The line is a take off of Tarazona's Guerrilla Smokefare campaign started three years ago. According to Eddie Tarazona, "The concept of Guerrilla 305 was conceived three years as a symbolic response to the legislative backlash the cigar industry has been facing. I just wanted to express that 'anger' in a cigar line. Who better to collaborate in creating this line than Robert Caldwell." In terms of Tabacalera William Ventura, Tarazona added, "We were simply amazed at the cigars coming out of Tabacalera William Ventura, we couldn't pass up the opportunity to work with them."
Tarazona said that on Memorial Day he will send 50 stores the initial allocation of Guerrilla 305 with the remainder being shipped after the 2014 IPCPR Trade Show this summer. A similar model will be followed for the Guerrilla 305 Black Sheep. In terms of selecting those stores to get the release, Tarazona said it will be those shops he has built a relationship with. "I care about the quality relationship we have with our shops," he added.
It is no coincidence that today's announcement was timed at 3:05 PM Miami Time. The name 305 represents the area code of Miami and it has been used in the Tarazona 305 and Tarazona 305 Revolution. "Nobody loves Miami the way I love Miami. I love that town," said Tarazona.
Tarazona seemed upbeat on the new relationship with Tabacalera Ventura as well as the Guerrilla 305 project. "This has really been a fun line to develop," he added.
At a glance, here is a look at the Tarazona Guerrilla 305 line:
Blend Profile
Guerilla 305
Tarazona described this cigar as "medium to full"
Wrapper: HVA (Habana Vuelta Abajo Ecuador)
Binder: Ecuador Habano
Filler: Criollo 98, Corojo, HVA
Guerilla 305 Black Sheep
The blend for this will feature a maduro wrapper. According to Tarazona, the blend will be completely different than the Guerrilla 305, but it is still under development.
Vitolas Available
The Guerrilla 305 line will be launched in five sizes. All box counts are planned to be 15 except for Commando which will be 20.
Commando: 4 1/2 x 42
El Captain: 5 x 52
El Hefe: 6 1/2 x 42
El Comandante: 6 1/4 x 54
Silverback: 6 1/2 x 60