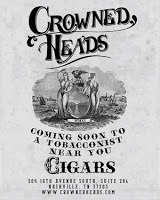 Crowned Heads will be adding a new regular production line extension to its Headley Grange line.  The Headley Grange Laguito No. 6 will not only be the largest ring gauge cigar in the line (56), but it will also be the first cigar to be in a parejo shape.  The cigar is being targeted for a Summer, 2014 release.
Information on the Laguito No. 6 surfaced on social media back in April. Last week, the information on the project was released to Cigar Insider, and was followed up by Cigar Aficionado on 5/13/14.
Headley Grange takes its cue from the music industry – named after a famed London Recording Studio.  The cigar is made at Ernesto Perez-Carrillo's Tabacalera La Alianza factory.  As mentioned the Laguito No. 6 will be made in a rounded parejo shape – as opposed to the trunk press shape used for the other regular production cigars.  The cigars will feature a twisted fan-tail style cap.
While it is a core line, Crowned Heads co-founder Jon Huber told Cigar Aficionado that the rollers at Tabacalera La Alianza will only be able to make 200 to 225 Laguito No. 6 cigars a day for a total of 50,000 cigars per year.
Blend Profile
The Headley Grange contains Nicaraguan tobaccos surrounded by an Ecuadorian Sumatra wrapper.
Wrapper: Ecuadorian Sumatra
Binder: Nicaraguan
Filler: Nicaraguan
Vitolas Available

While Headley Grange's other cigars come in boxes of 24, the Laguito No. 6 will come in boxes of 10.  In 2013, Crowned Heads also introduced a limited edition lancero called Headley Grange Drumstick that was also packaged in boxes of 10.
Laguito No. 6: 6 1/2 x 56
Estupendos: 5 1/2 x 52
Hermoso No. 4: 5 x 48
Eminentes: 5 1/4 x 44 (2013)
Corona Gorda 5 5/8 x 46
Dobles: 6 1/8 x 50
Drumstick: 7 1/2 x 38 (Limited Edition 2013)