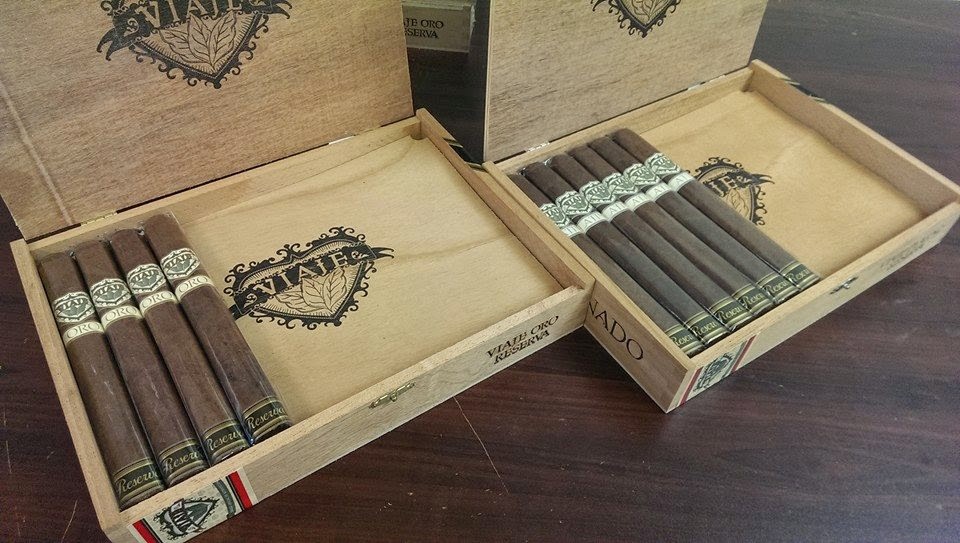 Viaje Oro Reserva Aficionado (L), Viaje Platino Reserva
Aficionado (R), Photo Credit: Andre Farkas Facebook Page
As we noted from the 2014 IPCPR Trade Show, Viaje will introduce a new vitola to both its Viaje Oro Reserva and Viaje Platino Reserva lines.  The new size will be a box pressed 7 x 50 Churchill called Aficionado.   This marks the first new vitola in both of these sizes in over 3 years.
The Oro and Platino were the original two Viaje lines.  They started out as core lines before company President Andre Farkas made them small batch to be consistent with the rest of the company. Both are Nicaraguan puros using a Nicaraguan Corojo 99 wrapper, but the Oro is considered to be more "amp'd up". The Reserva vitolas are different in that they contain some older tobacco as well as some additional ligero.

The Reserva lines made their debut in 2010 with the box-press  Viaje Oro Reserva No 5 (5 1/2 x 52) and the Viaje Platino Reserva No. 6. The Viaje Oro Reserva VOR No. 5 came in a 5 1/2 x 52. While the Viaje Platino Reserva No. 6 came in a 6 x 50.  There have been several small batches of these cigars. Now the Aficionado Churchill size has been added with he Oro Reserva and Platino Reserva.
In 2011, Viaje introduced a second size – a 5 3/4 x 52 double torpedo in each of the blends called the Viaje Oro Reserva VOR-DT and Viaje Platino Reserva-DT respectively.  This was a one time batch.
While not officially announced the size could be a play on the fact that the Viaje Oro Reserva No. 5 became Cigar Aficionado's #2 Cigar of the Year for 2010 – the highest honor Viaje has received from that magazine.
At a glance, here is a look at the Viaje Oro Reserva and Viaje Platino Reserva lines.
Blend Profile and Vitolas Available

The Viaje Oro Reserva and Viaje Platino Reserva are Nicaraguan puros using similar tobacco origins, but the Oro is a more "amp'd up" blend.  The cigars will be made at the Raices Cubana factory in Honduras.

Wrapper: AGANORSA Corojo 99
Binder: AGANORSA Nicaragua
Filler: AGANORSA Nicaragua
Viaje Oro Reserva

Aficionado: 7 x 50 (box-press)
VOR No. 5: 5 1/2 x 52 (box-press)
VOR DT: 5 3/4 z 52 (double torpedo)
Viaje Platino Reserva
Aficionado: 7 x 50 (box-press)
VPR No. 6: 6 x 50 (box-press)
VPR DT: 5 3/4 z 52 (double torpedo)