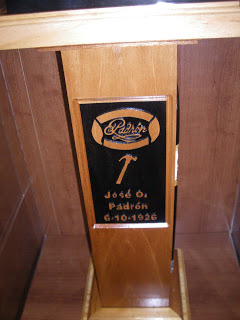 Padron Cigars will once again be providing two exclusive cigars to the Tobacconist Association of America (TAA).  However, for the first time, the cigar will be based off their Serie 1926 blend and will be released in both the natural and maduro blends  The Padron Serie 1926 No. 47 will introduce a 5 1/2 x 50 box-press vitola.  According to an article by Cigar Afcionado, the No. 47 will hit retailers this June.

The 5 1/2 x 50 box-press is a popular size that is found in the Padron 1964 Anniversary blend with the Exclusivo vitola.  The reference to No. 47 refers to the fact that this was unveiled at the 47th TAA Convention.  At press time the convention is currently going on at Casa de Campo in the Dominican Republic.
For 2014, Padron released the Padron 1964 Anniversary Belicoso TAA Exclusive in both a Maduro and a Natural.  The Maduro finished as our #1 Best Line Extension for 2014.  Padron also has a TAA Toro (in a natural and maduro release) that is an on-going release tot TAA members.
Cigar Aficionado reports pricing to be $18.00
Blend Profile
The Padron 1926 Serie is a Nicaraguan puro:
Wrapper: Nicaraguan (Maduro or Natural)
Binder: Nicaraguan
Filler: Nicaraguan
Country of Origin: Nicaragua (Tabacos Cubanica S.A.)
Vitolas Available
Except where noted, each of the vitolas of the Padron 1926 Serie are available in a sun-grown natural or a maduro wrapper. All are in a box-press shape.
No. 47: 5 1/2 x 50 (2015 TAA Exclusive)
No. 1: 6 3/4 x 54
No. 2 5 1/4 x 52 (Belicoso)
No 6: 4 3/4 x 50
No. 9 5 1/4 x 56
No. 35: 4 x 48
40th Anniversary: 6 1/2 x 54 (Torpedo)
80th Anniversary: 6 3/4 x 54 (Perfecto)
LP40: 6 1/4 x 60 (Limited Edition to Tobacco Plaza – Maduro only)