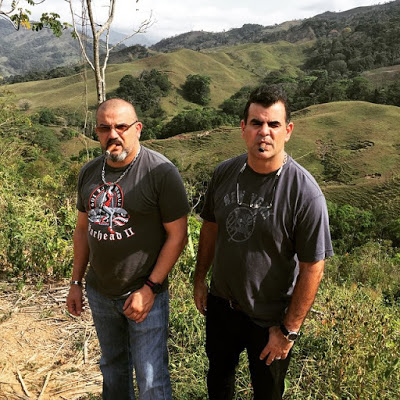 Erik Espinosa, Espinosa Cigars (Left);
Isaisas Santana Diaz, D'Crossier Cigar (Right)
(Photo Credit: Espinosa Cigars)
Espinosa Cigars is the new distributor for Pure Aroma Cigars. Pure Aroma Cigars was founded in 2006 s is owned by Isaisas Santana Diaz. The company produces the D'Crossier Premium Cigar line. D'Crossier Cigars are manufactured in Costa Rica and are known for its Golden Blend, L'Forte, Imperium Class Vintage, and Presidential Collection lines.

In a press release announcing the partnership, Espinosa Cigars founder Erik Espinosa said, "Santana is a very driven man; a true craftsman, with a real commitment to keeping cigar traditionalism alive with his blends and packaging. We have a bond of friendship and mutual respect that transcends the cigar trade having spent countless hours together, working trade shows, events and on each other's blends" says Espinosa.
"Erik has been in the cigar business for 20 years and has been successful at every level. I believe that this relationship will make my lines available where they have yet to be seen or experienced. I believe this partnership will be reciprocal, with Erik opening some doors for me at Pure Aromas and I opening a few for him" added Diaz in the same press release.
In addition, today Pure Aroma Cigars formally announced a new line called Flor de D'Crossier Selection No. 512.