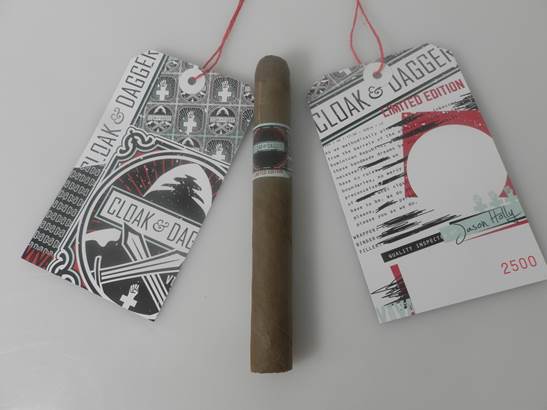 Viva Republica has announced a new series called Cloak & Dagger. This series will allow Viva Republica to quickly bring limited edition blends to market.  The company announced the first blend of Cloak & Dagger called "Ojos Verdes". The name "Ojos Verdes" is appropriate for this cigar as it features a Dominican Candela wrapper.
In a press release announcing the Cloak & Dagger series, company founder Jason Holly said, "I'm excited about this line, because it will allow me to get projects out of the factory much quicker, than we have been doing in the past. With standard packaging prepared, we can turn out a wet-shipped release, in less than a week, or 30-40 days, with traditional minimum aging."
Cloak & Dagger keeps to the political theme of Viva Republica as it refers to "clandestine operations".  This theme is appropriate for Cloak & Dagger in that the blend contents will not be disclosed to the public. According to company founder Holly, " It's my belief that to enjoy a cigar you needn't know the blend components, in fact I think it's better to smoke a new cigar without being prejudiced by tobacco origin, marketing/positioning, proclaimed strength, etc."
As for Ojos Verdes, the only information being released is that the cigar contains a Dominican Candela wrapper and the cigar itself will be a 6 x 47 Corona Gorda. Ojos Verdes will be packaged in 20 count bundles and production will be limited to 250 bundles. The pricing of Ojos Verdes will be $8.50 per cigar.
Other blends and sizes under the Cloak & Dagger line are slated to be released later this year.
Photo Credit: Viva Republica