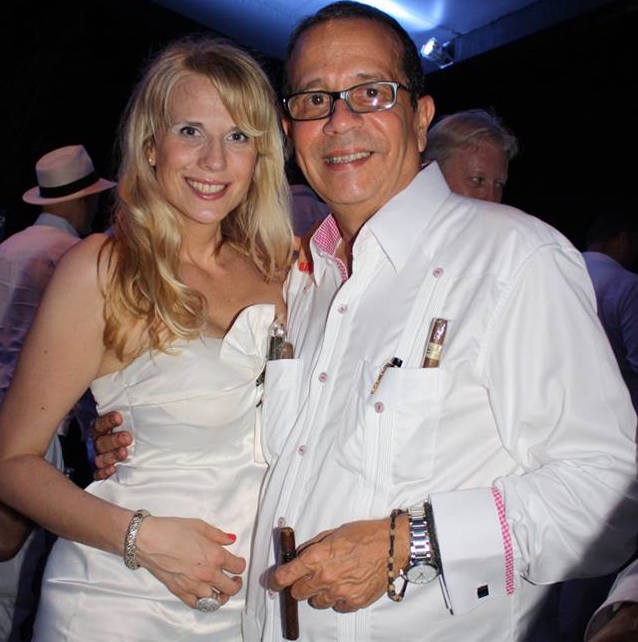 While Las Cumbres Tabaco unveiled a couple of box-pressed line extensions to its Senorial and Frejya lines, the company had some additional releases. On Episode 199 of Stogie Geeks, Emma Viktorsson discussed details around three additional blends coming into the Las Cumbres Tabaco portfolio.
Both the Senorial and Frejya lines have received new blends. For Senorial, the brand spearheaded by Viktorsson's husband Jose Blanco, the new Senorial CT has been added. This fills adds the first Ecuadorian Connecticut Shade wrapper offering into the Las Cumbres Tabaco portfolio.
Meanwhile for Frejya, the brand spearheaded by Viktorsson, two new blends has been added. First up is the Freyja 12, a blend that commemorates Viktorsson's 12 years in the tobacco business. The other new blend is Frejya Nocturnal, the first Connecticut Broadleaf offering in the Las Cumbres portfolio.
The Senorial, Freyja 12, and Freyja Nocturnal have all been released in limited qualities. Senorial and Freyja 12 will be the first of the two new blends in wider distribution with the Freyja Nocturnal following later.
The full interview with Viktorsson appears here:
Senorial CT
The box has a natural colored box and white-colored version of the Senorial band. The cigars are packaged in 24 count boxes.
Each of the vitola names reflect the "shine" that often comes from an Ecuadorian Connecticut wrapper.
Wrapper: Ecuadorian Connecticut
Binder: Dominican Republic
Filler: Dominican Criollo '98, Dominican Piloto Cubano
Country of Origin: Dominican Republic (Tabacalera Palma)
"Shine" represents shade of the Connecticut Shade
Dandy Corona: 5 1/4 x 42
Lustrous Robusto: 5 1/2 x 52
Glossy Toro: 6 x 54
Aureate: 6 x 60
Freyja 12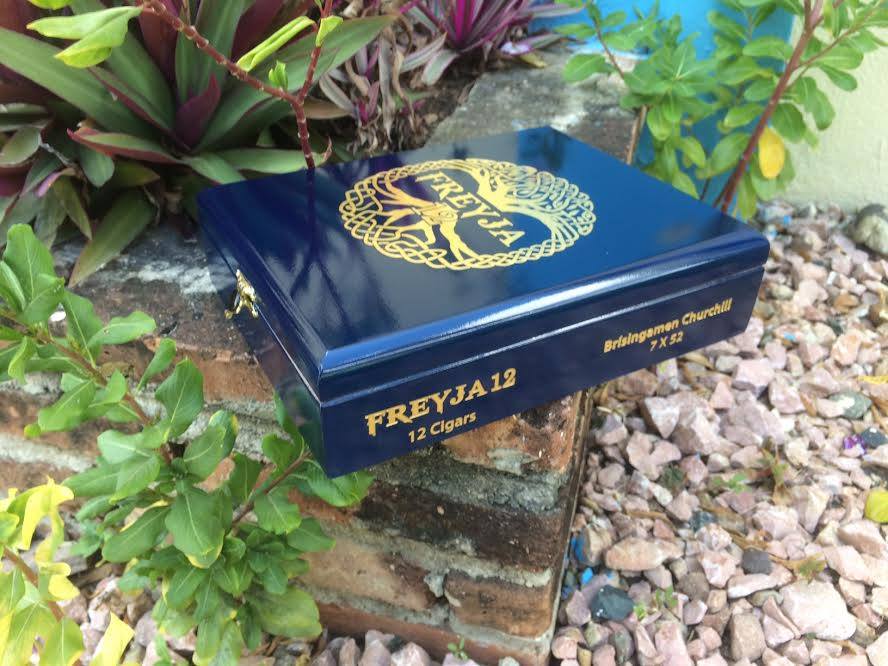 This cigar was described as the most full-body and strength. Freyja 12 is available in one size -a 7 x 52 vitola called the Brisingamen Churchill. Brisingamen is named for the necklace the goddess Freyja would wear.
The Frejya 12 band uses a modified design of the original Frejya band that incorporates electric blue into the color scheme.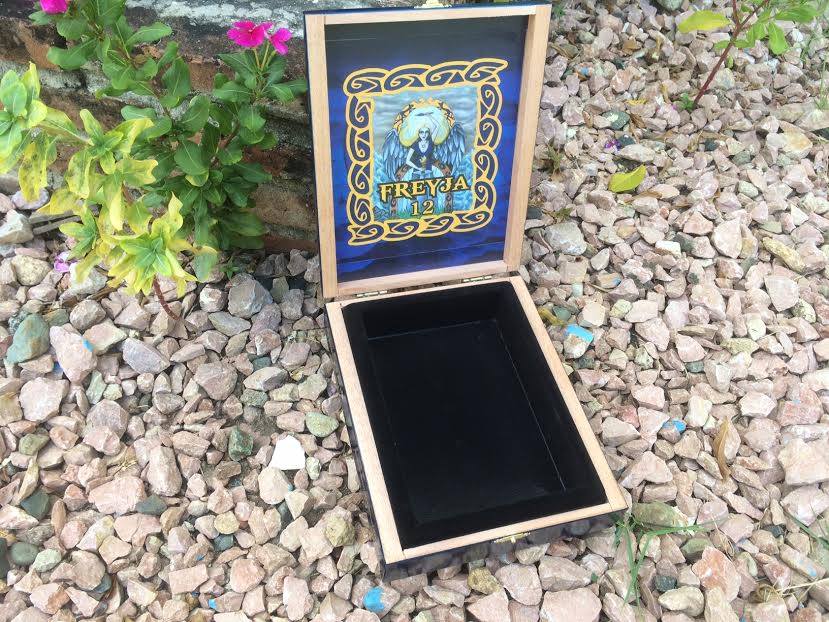 The "12" is used in a theme throughout this release. The Freyja 12 is packaged in 12 count boxes and each cigar is priced at $12.00.
Wrapper: Ecuadorian Habano
Binder: Dominican Corojo
Filler: Dominican: Corojo, Criollo 98, Piloto Cubano
Country of Origin: Dominican Republic (Tabacalera Palma)
Brisingamen Churchill: 7 x 52
Freyja Nocturnal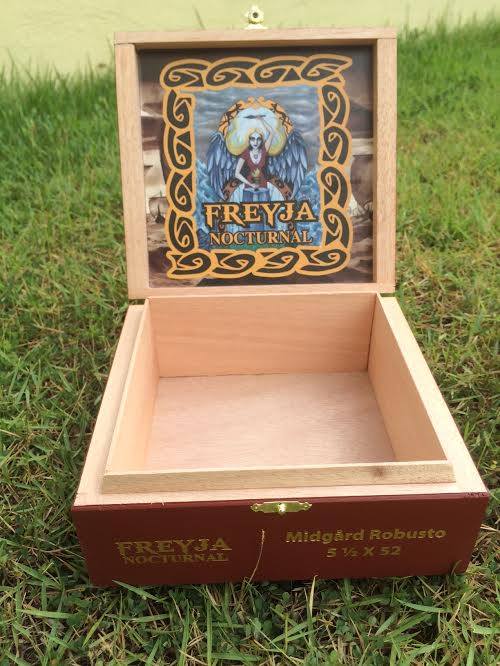 Like the original Freyja, the cigar utilizes a Mexican San Andres binder. The filler is also similar to the original Freyja, but the Nicaraguan component was removed. As mentioned earlier, the cigar is highlighted by a Connecticut Broadleaf wrapper.
The vitolas play into the theme of Norse cosmology. Each of the vitolas are named for "homeworlds" in Norse mythology. Each of these homeworlds are connected by the Yggdrasil tree, which is something that is seen on the Freyja logo.
The Frejya Nocturnal band incorporates red into the color scheme of its packaging.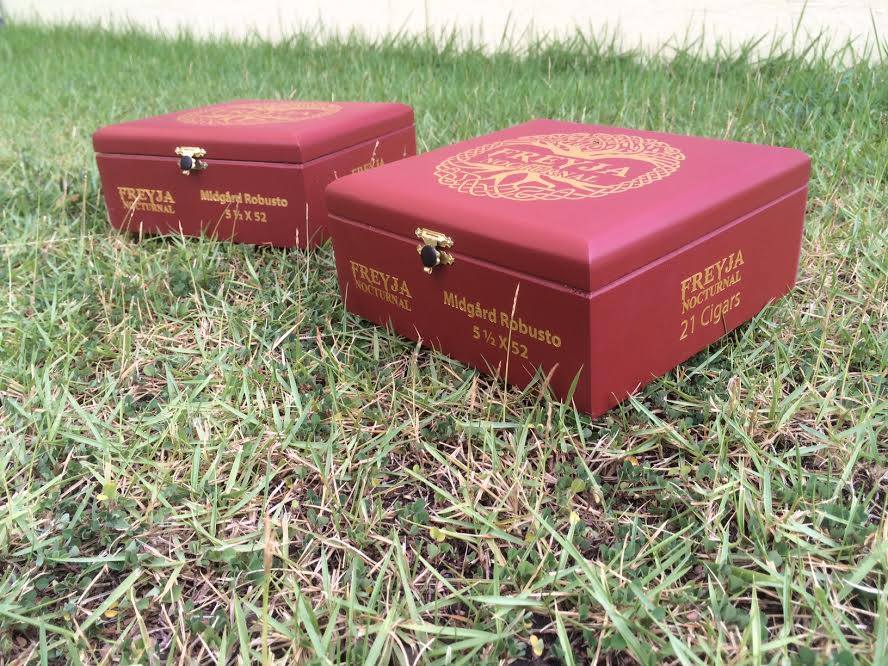 The cigars are packaged in 21 count boxes.
Wrapper: Connecticut Broadleaf Maduro
Binder: Mexican San Andres
Filler: Dominican: Criollo 98, Piloto Cubano
Country of Origin: Dominican Republic (Tabacalera Palma)
Midgård Robusto: 5 1/2 x 52 (box-pressed)
Bifröst: 5 3/4 x 46
Vanaheimr Toro: 6 x 54
Asgård: 6 x 60
Yggdrasil Lonsdale: 6 1/4 x 44
Photo Credits: Las Cumbres Tabaco