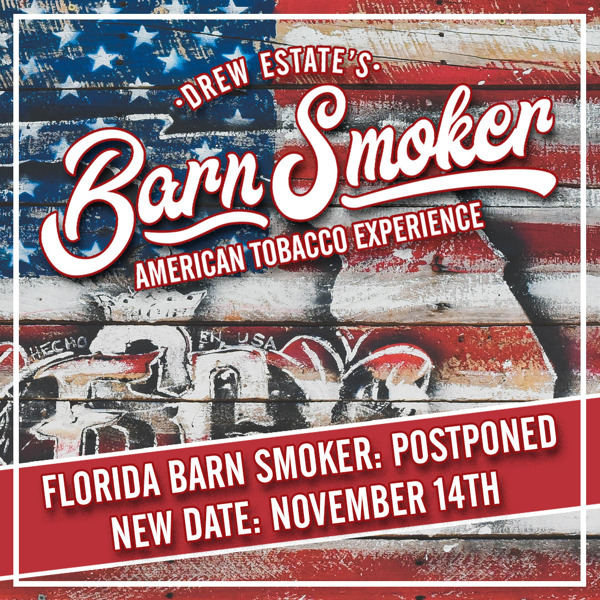 Due to health concerns and recommendations around the COVID-19 Coronavirus, Drew Estate has announced it has rescheduled its Florida Barn Smoker from May 16th to November 14th.
This follows the Center for Disease Control (CDC)'s March 15th recommendation that large events and mass gatherings taking place over the next eight weeks with over 50 people be canceled or postponed.
Drew Estate issued the following statement:
Drew Estate made this decision solely as an extreme precaution to ensure the safety of our staff, the staff of the Florida Sun Grown farm and most importantly the 700 Barn Smoker attendees who travel across the country for this extraordinary American Tobacco Experience. The new dates for the 2020 Florida Barn Smoker are November 13th-14th, with the VIP Dinner Experience on November 13th and the Barn Smoker event on November 14th.
All 2020 Florida Barn Smoker tickets will be honored for the new dates. If for any reason, a Florida Barn Smoker attendee cannot attend or otherwise wishes to receive a ticket refund, all refund requests for the Florida Barn Smoker will be granted. Ticket refunds can be requested through Eventbrite at https://www.eventbrite.com/e/florida-barn-smoker-by-drew-estate-tickets-82139364049 or by emailing marketingevents@drewestate.com.
In regards to the other Barn Smoker events in Pennsylvania, Connecticut, Kentucky and Louisiana, Drew Estate is carefully monitoring the COVID-19 situation and will provide updated information at a later date, well in advance of each event.