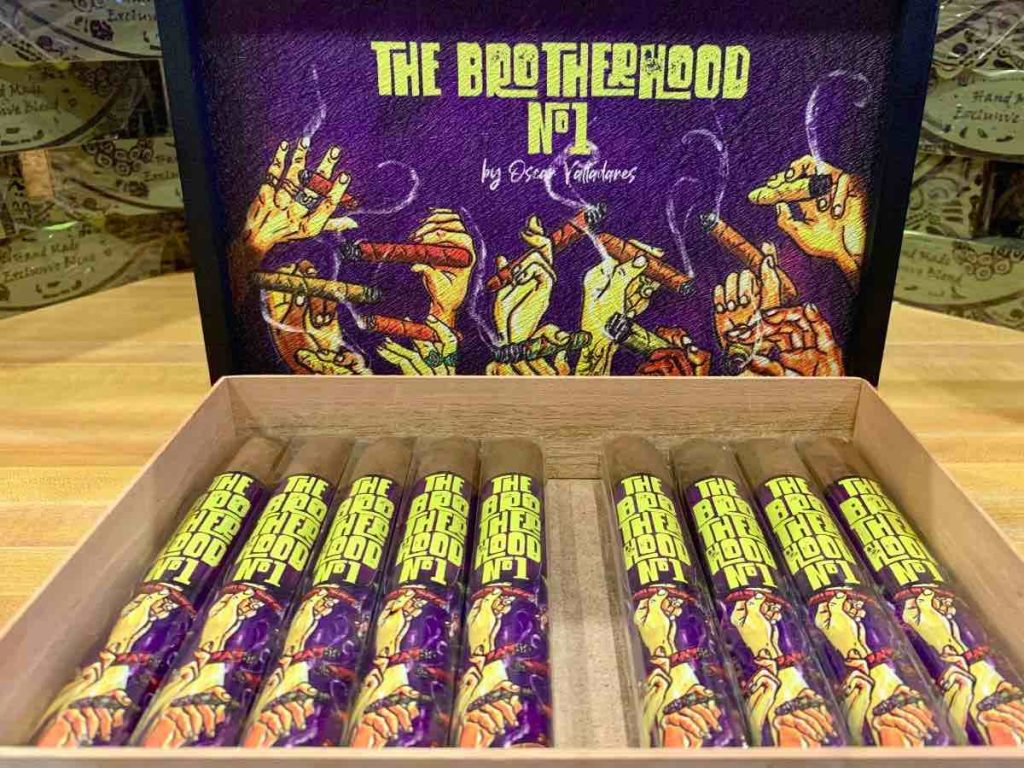 Oscar Valladares Tobacco & Company has released a new line exclusive to The Cigar Shop in the Carolinas known as The Brotherhood No. 1.
The Brotherhood No. 1, is a project that had been in the works for two years. It turns out the timing was perfect given the challenges of 2020 and how many in the cigar community have come together.
"2020 kinda blows. Pandemics, Murder hornets, politics…it's not great. Cities, communities, and families are divided. There's unrest and unease. . . and yet there is hope. In cigar lounges all across this country people from ALL backgrounds are still sitting, still smoking, still laughing, and still leaving as friends. This is the kind of thing we need more of. The Brotherhood (by Oscar) goes beyond celebrating that. It PROMOTES it. Black, white, women, men, working-class stiff, well-to-do-guy are ALL Brothers and Sisters of the Leaf."
The blend of The Brotherhood No. 1 features a Sumatra wrapper over Nicaraguan binder and fillers. The cigar comes in one side, a 6 x 52 Toro available in 20-count boxes. Pricing is set at $9.97 per cigar.
Jay Lowe of The Cigar Shop who served as a Blend Consultant and Brand Ambassador for The Brotherhood said: "I've always been a part of a structured group of like-minded people. I was a college athlete, a member of Omega Psi Phi Fraternity Incorporated, and have 12 years in the Air National Guard–BUT, Brotherhood is even bigger than that. Brotherhood–to me–means being able to walk in to any shop and strike up a conversation with anyone and we come to realize that we share a love of cigars, and leave friends after smoking together feeling like I've known then for years."
Nathan Sumner, Owner of The Cigar Shop and Project Manager for The Brotherhood added, "The Cigar Shop has always been about a message of love for all of our brothers and sisters of the leaf that unite under a common bond that transcends social, racial, economic, and political differences and unite under our common love for cigars and the lifestyle they represent. Unfortunately, that is lacking in most of society. We worked with Jay and Oscar to come up with a cigar that celebrates the best in all of us–The Brotherhood has been a labor of love for us for more than 2 years. At first, I was disappointed with the delay; we were hoping to have it early last year, but now I see the timing as just what we need."
The Cigar Shop has been the recipient of several exclusive brands by Oscar Valladares. In addition to Brotherhood No.1, these releases include: In Too Deep (Connecticut, Habano, and Maduro) as well as early releases of the 2012 by Oscar Barber Pole (Toro and Lancero).
At a glance, here is a look at The Brotherhood Vol. 1 by Oscar Valladares:
Blend Profile
Wrapper: Sumatra
Binder: Nicaraguan
Filler: Nicaraguan
Country of Origin: Honduras
Factory: Oscar Valladares Tobacco & Co
Vitolas Offered
Toro: 6 x 52
Photo Credit: The Cigar Shop