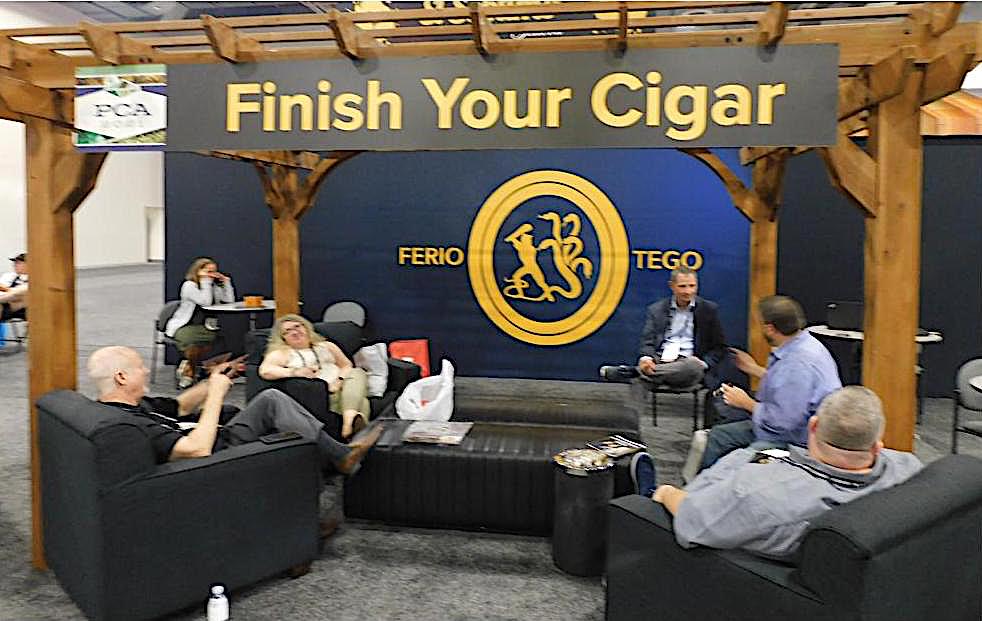 Ferio Tego's primary goals at the 2021 Premium Cigar Association (PCA) Trade Show were twofold: 1) Connect with customers; 2) Support the Trade Association. While these are the goals of many companies at the PCA Trade Show, what was different was Ferio Tego was not writing up orders at the Trade Show.
Ferio Tego is the venture started by former Nat Sherman International employees Michael Herklots and Brendon Scott. Back in 2019, Nat Sherman's parent company Altria announced it was exploring options for the future of Nat Sherman's premium cigar business, including a sale of the brand. Herklots had said plans were underway to sell the brand when the COVID-19 pandemic threw a monkey wrench into those plans. By August 2020, Altria had decided to shut down Nat Sherman's premium cigar business, including the brands and its Nat Sherman Townhouse retail store in midtown Manhattan, New York. While Altria completed the shutdown in 2020 (including selling off inventory), it still retained ownership of the brands and its intellectual property. From that point, Herklots and Scott worked on a plan of their own to see if they could acquire the business – and ultimately they were able to do this.
Michael Herklots has said the plan was before relaunching the former Nat Sherman Brands (Timeless, Metropolitan, and Epoca) there would be the launch of a limited edition brand known as Ferio Tego. He had hoped that by the Trade Show Ferio Tego would have been ready, but that did not happen. While he expects Ferio Tego to launch this summer, rather than take orders on something that wasn't ready to go, a decision was made to not take orders.
At the same time Ferio Tego wanted to be a part of the Trade Show. This included connecting with former and potentially future customers. It also included supporting the association. This year, Ferio Tego sponsored the "Finish Your Cigar" booth, where attendees could finish their cigar before heading on to the area's convention show where smoking is prohibited.
This strategy worked and there is a definite excitement in the air for what Ferio Tego will bring to the table.
Interview with Michael Herklots, co-owner Ferio Tego
Note: Due to age restrictions, you might have to click on "Watch on YouTube" to play the video
Photo Credit: Erron Nielsen for Cigar Coop