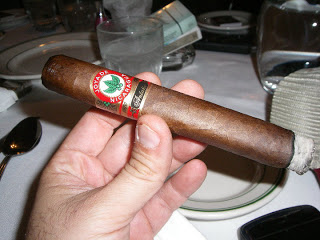 As with many conferences, often various customer dinners are scheduled. With IPCPR this was no different as many of the Cigar Manufacturers scheduled dinners with the retailers. Obviously there are limited lists of how many retailers could receive invites, so for Stace and myself, we were more than thrilled when it was our names put on the list for the Joya de Nicaragua dinner. It was between that or a burger on Bourbon Street. However, we soon realized we made the right decision when we got to the dinner and then found out who would be sitting right across from us at the table.
A little background on Joya de Nicaragua (JDN). JDN had a long-standing relationship with S.A.G imports and the great Manuel Quesada. In 2008, JDN CEO Dr. Alejandro Martinez Cuenca decided to end the distribution relationship he had with Quesada's company and entered into a distribution agreement with Drew Estates. For Stace, since now JDN was aligned with Drew Estate Cigars, the stars couldn't have been more aligned that this was the dinner he went to. The guy is just one huge fan of the company!
For dinner, the folks at Drew Estates selected, the legendary creole cuisine of Tujague's Restaurant where we would be treated to their famous six course dinner. While some of our colleagues who couldn't go were excited about having that burger on Bourbon Street, we knew couldn't pass up an opportunity like this.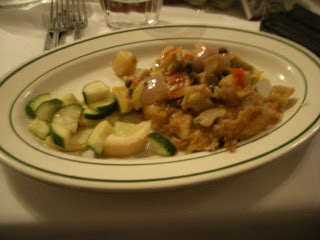 The Main Course – unbelievable Fish dish
Our host was Dr. Cuenca himself. I had heard what a passionate man Dr. Cuenca was, but seeing and hearing him in person confirmed that this was the case. Dr. Cuenca is very passionate about his home country of Nicaragua and very passionate about the cigars he makes. While it might not seem like he fits the unpredictable style of Jonathan Drew and his company, there are a lot of parallels. One is that both companies are passionate about their product. The other is that both are marketing geniuses This reflected in the top notch giveaways – a Cutter, a Hat, and three Cigars (Cabinetta Serie, Antano 1970, and Antano Dark Corojo). The funny thing is Dr. Cuenca mentioned how many people did not think the combination of JDN and Drew Estates would work. He commented on how well it has worked thus far.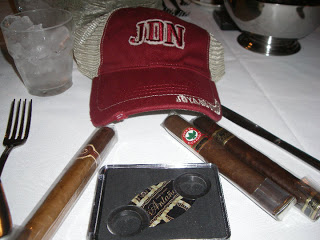 What awaited us at dinner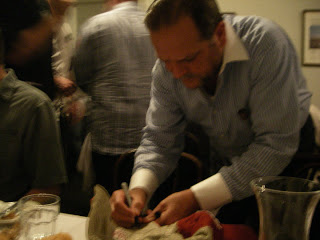 Dr Cuenca Signs My Hat
Yeah so it was a great dinner, with great cigars, great giveaways, and an unbelievable host. The interesting thing was who would sit across from us. Stace and I arrived reasonably early and selected our seats. Since JDN is in partnership with Drew Estates, it is natural that the cigar rock stars from Drew Estates would attend. So folks like Marvin Samuel, Steve Saka, and Jonathan Drew were in attendance. With Stace a huge Drew Estates fan, I thought he was going to have a coronary when Drew Estates President Steve Saka and his wife Cindy would sit right across from us! For those who don't know, Saka is the genius behind the Liga Privada line. Saka stayed with us for a good portion of the dinner, and Stace and I were able to engage in about 30 minutes of conversation. I can honestly speak for Stace that the conversation we had with Steve changed a lot of how we look at cigars. This was really awesome stuff.
I thought about writing the stuff Saka shared with us. I've opted against it. I feel that Saka talked to us candidly "off the record" many times in that 30 minutes. Since I never told Saka about my plans for "Tales from the IPCPR", I felt it would not be appropriate to write what he told us. I can tell you – Saka knows this business. And can teach a lot to people who already know the business.
It got even better for Stace and myself, when the Jonathan Drew sat in the seat to Saka's left. Seeing those two engage in conversation with each other and with us, it just wasn't better than that. So glad we passed on that burger on Bourbon Street.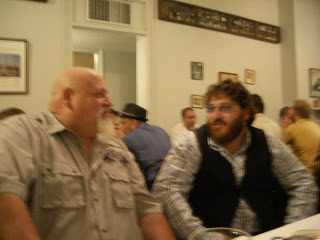 Lighting was terrible, but here was Saka (left) and Drew (right) engaging in conversation with each other