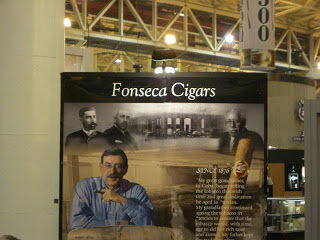 The Face of S.A.G Imports – Manuel Quesada
Aside from the big corporate cigar manufacturers like General and Altadis, many of the next tier companies follow what I term the "Donald Trump" model. With Donald Trump, he has become the face of the company – i.e Trump himself is the brand. We see a similar model with the cigar companies as many of the master blenders who have started companies are also the face of their company. And many of these blenders take it even a step further – namely bringing their families into the company. Perhaps, one of the shining examples of this is the Quesada family. When I visited the S.A.G Imports booth – home of the Quesada family, I saw this in action. It was one of the most welcome visits I took to any cigar booth. With this booth, there was no doubt that Manuel Quesada was the face of his company – and there was no doubt that his family played a key role in the operation.
I had met Manuel Quesada on three previous occasions. First up, the man is a gentleman through and through. He probably is one of the most humble men you will ever meet and he would be the last person who would want to be the "face" of his company. And when you have been lucky enough to have had one on one and small group discussions with him as I had, you realize the class this man has. He also has a thorough knowledge of the cigar industry. Each visit with him has been a learning experience. On top of that, he also makes some great cigars in the Casa Magna, Fonseca, and now Quesada lines.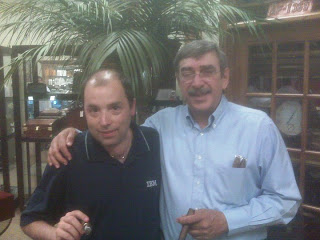 Cigar Coop with Manuel Quesada – taken 7/1/09 at Outland Cigars
However, this time as I sat in the Quesada booth, I discovered another side to Mr. Quesada – the family side. It was really cool seeing Manuel work with his daughters, Patricia and Raquel. Both women in a short time really have made their mark in the cigar business. Last year, they had a role in creating the Quesada 35th anniversary. This year they played a role (along with other members of the "5th generation" of Quesadas) in the release of the Tributo line – the showcase cigar for IPCPR by the Quesadas.
The Tributo was actually released prior to IPCPR. (For a review of the Tributo, click here). This cigar servers as a tribute to four members of the Quesada family who have passed away. Given the family bonds, I thought it was appropriate the Quesada booth carried the family theme in displays honoring these past family members.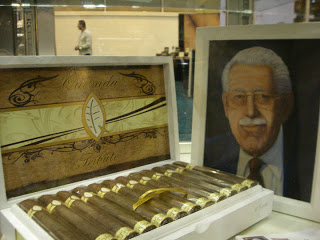 Tribute at IPCPR to Manolin Quesada, Manuel's Father
Tribute at IPCPR to Alvaro Quesada, Manuel's brother who died in plane crash
Tribute at IPCPR to Alvarito Quesada, Alvaro's son and Manuel's brother who also died in that plane crash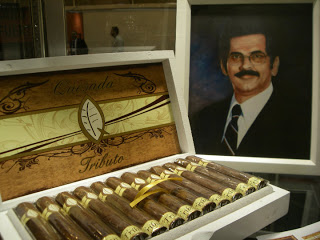 Tribute at IPCPR to Julio Fajardo, Manuel's right hand man who also died in that plane crash
Overall this booth was a very welcome place to be. It never gets old stopping by and talking to Manuel Quesada, but now seeing his operation in action just made it more special for all of us. I think the picture below sums it up best.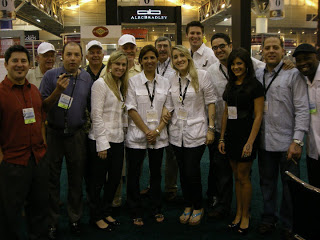 Truly capturing the Family Affair