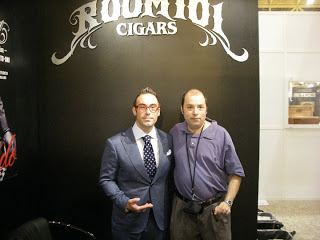 Matt Booth with Cigar Coop
The Camacho Cigars lounge was one of the more interesting visits at the IPCPR. A lot of the lounge had the contemporary flair that the Oliva Lounge had. It was a very pleasant place to spend some time and the decor was outstanding. One interesting twist was the way the Room 101 line was included in the cigar lounge. Room 101 basically had its own "booth" in the cigar lounge. That "booth" was manned by none other than the creator behind Room 101, Matt Booth. This turned out to be one of my best visits.
It made a lot of sense for this setup. The Room 101 brand was founded by Matt Booth who gained fame for making jewelry, accessories, and clothing for the Hollywood scene. Booth soon extended his "lifestyle" to include a line of premium cigars. It is Camacho who blends his cigars for him. The idea was to have a cigar line to reflect the Hollywood scene that the Room 101 had become known for. "101" stands for the famous highway in the Los Angeles area, and the cigars in that line are named after the area code. In 2009, Room 101 was one of the big launches at the IPCPR. I was very curious to meet Matt Booth and to see his persona in action. While Matt's "Booth within a booth", showcased his cigars, jewelry and accessories, Matt himself was also there meeting and greeting visitors. From a first hand account, I can tell you – Matt Booth is a class act. I do believe the following story sums up all you need to know about Matt Booth and what a class act he is.
About 8 months ago, my buddy Joe and I were at a Camacho/Room 101 event. At the event, Joe got a sample of the Room 101 cigar. Joe's one of the most knowledgeable and passionate people you will meet when it comes to cigars. Joe utilized the power of Twitter to give some feedback on the problem he had with his stick. Matt Booth got hold of the "tweet" and proactively reached out to Joe and asked him to send him his contact information so he could make good on it. A few weeks later, Matt personally followed up with Joe to ask if anyone had gotten back to him. Joe replied that he had not heard anything. Matt then personally made sure to remedy the problem and sent Joe a whole box of Room 101s. Joe was very appreciative and in fact this batch of the Room 101s was very good. The story though gets better than this.
When I went up to talk to Matt Booth, I felt it necessary to tell Matt what a great thing he did for my friend. When I started telling the story, Matt immediately remembered Joe's name without me ever mentioning it. He remembered how appreciative Joe was for his actions. He then said to me, "Wait, let me send Joe a text message". He pulls out his mobile phone and he pulled up Joe's contact information – and sent him the message. How cool was that?! Gave me a lot of respect for Matt as a person – and for the product line he represents.
The big buzz at Room 101 and Camacho was the new Room 101 Conjura cigar that is due to come out. The stick is still going through its final phases before production release. I will be reviewing this stick in the near future. But overall, what a visit! One of the memories of IPCPR 2010, I will never forget.