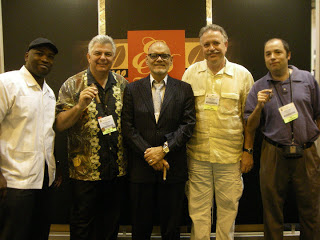 E.P. Carrillo in the Center, Tony to the right
As I mentioned in a previous write-up from Tales From the IPCPR, many of the cigar companies are family owned companies that follow a "Donald Trump model". With Trump's company, Trump is the face of the company – and the brand of his company. Many know icons such as: Jonathan Drew, Litto Gomez, Sam Leccia, Matt Booth, Christian Eiroa, Pete Johnson, and Dion Giolito – who are the faces of their company. This is also extended to icons who bring their families into the fold – with families such as: the Padrons (Jose O Padron/Jorge Padron), the Quesadas (Manuel Quesada and his daughters), the Toranos (Carlos Torano/Charlie Torano), the Garcias (Don Pepin Garcia/Janny Garcia/Jaime Garcia), Perez-Carrillo family (Ernesto Perez-Carrillo and children), and more. What is even more cool is that those who love the cigar business recognize these people as icons. These are the face of the brands of the cigars that many people know and love. When you are at IPCPR and walking from booth to booth, you see these icons either at the booth or walking the aisles. It is like walking among the superheros. For my good friend Tony, he got his opportunity to meet the ultimate superhero – Ernesto Perez-Carrillo.
A little background, one of Tony's favorite cigars is the La Gloria Cubana Serie R (No. 7). La Gloria Cubana was founded by Ernesto Perez-Carrillo. Like any industry, big business and consolidation plays a key role. In 2000, the La Gloria Cubana line was sold to General Cigar. Perez-Carrillo stayed on with General until 2009. It was at that point that Perez-Carrillo, launched EPC Cigar Company with his daughter Lissette and his son Ernesto III, thus bringing his family into the fold.
While General Cigars had one of the biggest and most visible lounges, the E.P. Carrillo lounge was pretty simple. It was smaller and was toward the back of the showroom. It was a comfortable and pleasant place. It was a good reflection of what EPC is – a simpler line, a simpler brand, and most importantly a family company that produces quality products.
For Tony, it was mandatory we visit this lounge. He wanted to see Mr. Perez-Carrillo himself – the master behind the Serie R. When we got to the lounge, we were greeted by Ernesto III. Finally, Tony got to see the man himself – a true cigar icon in not just his eyes, but a lot of our eyes – Ernesto Perez-Carrillo. Overall, like the visit to the Quesada booth, this very much was a "family affair". It was great to see the Perez-Carrillo family operating in action – and they all couldn't have been nicer. And much like Manuel Quesada is an icon, we also saw an icon in Ernesto Perez-Carrillo. Ultimately, it just doesn't get cooler than that.