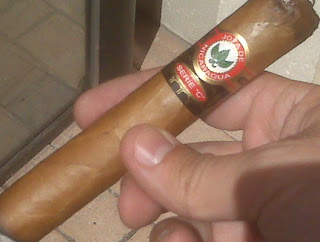 For various reasons, I have been on a mild cigar kick. In my last review, I reviewed the Gurkha Beauty – a pricey, but very good mild cigar. For this review, I go for the more economically priced Joya de Nicaragua (JDN) Serie "C" stick. From a brand standpoint, JDN is really producing some very good sticks that are flying under the radar (despite being under the marketing machine of Drew Estates). While this cigar isn't the large size that comes in the Gurkha Beauty, it did surprise me with some parallels in terms of taste profile. Best of all, the price point is much more reasonable.
Lets take a look at the construction of the Joya De Nicaragua Serie "C". With the exception of the binder being Dominican in the Beauty, there are some parallels with the tobaccos (although they probably aren't identical from the region)
Wrapper: Ecuadorian
Binder: Nicaraguan
Filler: Nicaraguan
The sizes that the Serie "C" are available in are:
Belicoso: 6 x 54
Toro 6 x 50
Robusto 5 x 52
Corona Grande 5 1/4 x 46
For the purposes of this review I opted for the Toro size.
The start of this cigar was disappointing. I happened to get a very bitter taste to it. The bitter taste did not last long, but it wasn't what I expected. As the bitterness faded, I started to get some creamy taste – very similar to what I got with the Gurkha Beauty. About 1/2 way down the stick, I started to get some black cherry and hazelnut tones on top of the cream. The black cherry was not as strong as the hazelnut – and definitely not like the black cherry of the Beauty. However from this point, I found the stick more enjoyable. When the cigar got toward the nub, this cigar did burn hotter than the Gurkha Beauty.
From a strength profile, I would put this in the mild to medium category. The JDN website still has this a bold and medium strength cigar. Now I would definitely say this is not as mild as the Gurkha Beauty. It is stronger at the start and stronger at the finish than the Beauty. Still I'm hesitant to put this as a medium strength cigar.
The price point for this cigar is also considerably cheaper than the Gurkha Beauty – depending on the size it is in the $5.00 – $7.00 range. Therefore, this may be a stick you want to pick up and try.
Assessment: See What You Think